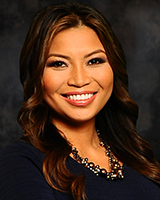 Elita Loresca joins the ABC-13 Eyewitness News Accuweather team as weekend morning Meteorologist. Before arriving in Houston, Loresca had been the morning and noon Meteorologist for KBNC's "Today in LA" since October 2007.

Prior to working at KNBC Los Angeles, Loresca worked at WSVN in Miami where she served as weathercaster on the top-rated morning and noon newscasts since August 2004.

Loresca covered two of the most devastating hurricane seasons in recent history. Starting on her first day at WSVN, Loresca began forecasting the 2004 hurricane season with Hurricane Frances. In 2005, Loresca contributed reports for her station from the National Hurricane Center during hurricanes Katrina, Rita and Wilma.

From August 2002 to August 2004, Loresca was the morning and noon weathercaster on KGPE-TV in Fresno, California. Before that, she was the Noon weathercaster and assignment editor for KGET-TV in Bakersfield, California from January 2001 to August 2002.

Loresca began her career as a news associate at KCBS-TV in Los Angeles, where she was responsible for the assembly of scripts and teleprompter operation during the newscasts. She also assisted the assignment desk.

Loresca is a graduate of the Broadcast Journalism Program at Cal State Fullerton and earned a Certificate of Broadcast Meteorology at Mississippi State University. She is a member of the National Weather Association and the American Meteorological Society. In 2009, she earned the Television Seal of Approval from the American Meteorological Society (AMS).
Loresca is married, has 2 children and a lab-retriever named Barrie Sanders. She also loves the outdoors, playing at the park with the kiddos & Barrie, and fitness classes including Spinning, Zumba, Pilates, Kickboxing, Barre and an occasional Crossfit class. She and her hubby also love to cook and BBQ and are excited to try all the restaurants Houston area has to offer.

---