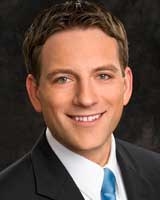 Meteorologist Travis Herzog joined KTRK-TV in July of 2006. Previously, he worked as the morning meteorologist just up the road in Bryan, Texas at KBTX-TV, where the Texas Associated Press twice recognized him as one of the top broadcast meteorologists in the state.

From hurricanes and tornadoes to ice storms and floods, Travis has covered just about every kind of weather element experienced in southeast Texas. He aims to present the public with weather forecasts that are informative, educational, and fun. When severe weather strikes, you can trust Travis to provide you with timely weather updates and potentially life-saving information.

Travis is no stranger to Texas weather because he's lived here all his life. In fact, he received his calling to be a meteorologist when Hurricane Gilbert spawned a tornado that passed by his childhood home in San Antonio, Texas. In the aftermath, he developed a deep passion and profound respect for the atmosphere by reading every weather book he could find, prompting his classmates to label him "the weatherman," which he preferred over "school boy."

Raised to be a Longhorn, Travis eventually received the blessing of his parents to pursue his love for weather at Texas A&M University. In Aggieland he met his wonderful wife and he determined that he wanted to be a broadcast meteorologist. Choosing a career that paid him to forecast and talk about the weather seemed to be a no-brainer, even if it meant enduring corny weatherman jokes for the rest of his life.

Travis graduated with a B.S. in Meteorology and a perfect 4.0 GPR. He earned numerous awards and honors along the way, most notably the prestigious Brown-Rudder Outstanding Student Award, given to an individual that embodies the character, morals, and integrity of former Texas A&M University President Earl Rudder. He is a member of the American Meteorological Society, the National Weather Association, Phi Beta Kappa, and Phi Kappa Phi.

Travis enjoys being married, rough-housing with his two boys, joyfully serving at his local church, playing racquetball, and tracking cold fronts. If you have any nagging questions about how the weather works, send him an email at travis.herzog@abc.com.

---