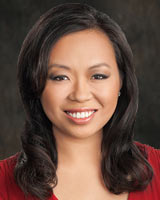 Miya Shay is your typical, overworked journalist who's always juggling several things at once. Currently, she is a reporter KTRK, ABC 13. Miya's main focus is government and politics. You will often find her chasing after politicians at Houston's City Hall or at the State Capitol in Austin.

Born in China, Miya graduated from Syracuse University with a degree in Broadcast Journalism. She has worked as a television reporter in New York, Alabama, Kansas, and Michigan, where it snows from November to May.

Since joining the Eyewitness News team in 2002, Miya has covered a variety of stories. She traveled to China twice, once covering the Houston Rockets, and another covering Mayor Bill White. The resulting reports garnered an Emmy Award. Miya travelled extensively during the 2008 Presidential campaign, and is currently spending a lot of time covering Houston's mayoral candidates. Besides her TV reports, Miya also write a weekly column for Houston Community Newspapers, and writes a daily blog.

Away from work, Miya loves to travel and look for the next cool scuba diving location. She's got a super cute dog. In addition, she spends way too much time on Facebook and Twitter.
---