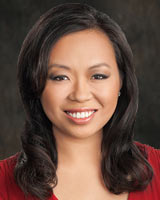 Miya Shay is an Emmy award winning journalist at KTRK-TV Channel 13, the ABC owned station in Houston. For the past decade, Miya has covered every major story in the city, and traveled extensively to report on a variety of issues. Currently, Miya focus is covering Houston City Government as well as the breaking news story of the day.

Born in China, Miya graduated from Syracuse University with a degree in Broadcast Journalism, and a minor in Asian History. She has worked as a television reporter in New York, Alabama, Kansas, and Michigan, where it snows from November to May. Among her journalistic accomplishments, she has received an Edward R. Murrow award for breaking news coverage as well as several regional Emmy awards.

Since joining the Eyewitness News team in 2002, Miya has traveled to China three times for ABC-13, where she followed Houston Rockets, as well as Houston's Mayor. Other memorable assignments include covering Sen. John McCain during the 2008 Presidential election, as well as Mayor Annise Parker's trade missions to Brazil, Korea, and Japan.

Away from work, Miya is heavily involved in the Houston community. Because of her work, she has been recognized as a Five Outstanding Young Houstonian, as well as "40 under 40" by the Houston Business Journal. In 2012, Miya married State Representative Gene Wu. In 2013, they welcomed their first child, Winston. Miya's dog Mei Ling rounds out the family.

---