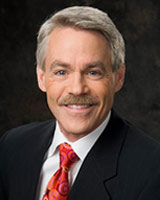 Tom Koch joined KTRK-TV in 1982 as a reporter for 13 Eyewitness News. In 1987, in addition to his reporting duties, he became the morning anchor for 13 Eyewitness News at 7am.

During his career at KTRK-TV, Koch has won many awards for his reporting. The list includes awards from the Associated Press, United Press International, the Houston Press Club, the Houston Firefighters Association, the Texas Bar Association, the American Heart Association and the American Diabetes Association.

Koch has reported thousands of stories, large and small, for 13 Eyewitness News. He covered the earthquake in El Salvador in 1986; the Pope's visit to the United States in 1987, the Pope's trip to Cuba in 1998, the oil boom in the former Soviet republic of Azerbaijan, numerous national political conventions and ten hurricanes.

In his spare time, he serves on the board of the Houston Press Club and gives his time freely to many charitable events.

Majoring in communications and business, Koch graduated from the University of Wisconsin in Oshkosh. He began his broadcasting career in 1977 at WAEO-TV in Rhinelander, Wisconsin, and then in 1979, went to WBAY-TV in Green Bay, Wisconsin.
---
Archive
ABC-13 anchor Tom Koch chilled off with a cold bucket of water to raise awareness about the ALS Association. He plans to make a monetary donation as well.