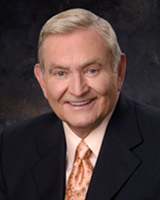 Getting the facts right, consistently -- that's what defines Dave Ward. A true Texas original, Dave has made his mark as one of the nation's most respected news anchors for more than four decades. In his trademark down-to-earth style, he begins every newscast with "Good evening, friends," and has for 47 years. It is that candor and dedication to getting every side of the story that's helped him become the most trusted newsman in Houston.

Dave joined KTRK-TV in 1966 as an on-the-street reporter/photographer. In 1967, he was assigned to anchor Channel 13's weekday 7am newscast. Later that year, he also became the first host of KTRK's "Dialing for Dollars." In 1968, Dave was assigned to anchor the weekday 6pm and 10pm newscasts where he remains as one Houston's most experienced news professionals.

Born in Dallas and raised in Huntsville, Dave began his broadcast radio career with KGKB in Tyler. Three years later, he moved to Waco, Texas and WACO radio, and then to Houston and KNUZ/KQUE radio. He started out as a reporter known for his grit and determination. Dave worked every angle of the story from the police beat to tropical storms. "I like that -- that I can get out on the streets, talk to the people -- see what they're thinking."

During his career with 13 Eyewitness News, Dave has reported on everything from presidential elections to space walks, and even the Vietnam Peace Talks. He's covered fires, explosions, earthquakes, flood and hurricanes throughout Texas and the southern states. He's interviewed heads of state and traveled to Mexico, Guatemala, Honduras, Panama, Nicaragua and Colombia on numerous stories. He's also covered several national political conventions and worked extensively with NASA on Mercury, Gemini, Apollo and shuttle missions. Dave also landed a special one-on-one interview with President Barack Obama, discussing topics from the presidential campaign to oil and gas drilling in the Gulf of Mexico.

Dave has taken an active role in the establishment of the Houston Crime Stoppers program, which has become the model of excellence for similar programs across the nation. He's also taken a lead in Houston's community affairs, serving as the President of the local Easter Seals Society, chairing the Public Affairs Advisory Board of the Houston Business Council, and working with the American Cancer Society. In addition, Dave has served as a member of the Leukemia Society Board of Directors and Board Member of Houston Press Club. He's also an original contributor to the Houston Police Foundation and has served on their Board of Directors.

In 2007, Dave was awarded an Emmy for his exceptional work on an ABC-13 Special entitled, "Steve Tyrell: A Houston Standard." Then in 2011, Dave received the prestigious Lifetime Achievement Award in Broadcast Emmys presented by the Lone Star Chapter of the National Academy of Television Arts and Sciences. "It makes me very proud. It fills me with humility that my peers would accept me for what I've done."
---