ORLANDO, FL (KTRK) -- The massacre at an Orlando gay nightclub early Sunday morning has been described as a "domestic terror incident," with at least 50 dead and 53 injured, officials said, making it the worst mass shooting in U.S. history and the deadliest terror attack on U.S. soil since the events of Sept. 11, 2001.
The shooter has been identified by officials as Omar Mateen of St. Lucie County, Florida, a U.S.-born citizen with Afghani parents. After the shooting began, he called 911 to pledge his allegiance to ISIS, according to law enforcement officials.
ISIS supporters have cheered the massacre online and an ISIS communique referred to the shooter as an ISIS "fighter," but there's no evidence that ISIS directed or had prior knowledge of the attack, terrorism observers told ABC News.
Officials announced at a morning news conference that the death toll of the attack had risen to 50 dead, more than doubling what had been reported earlier. Orlando Mayor Buddy Dyer called today "the most difficult day in the history of Orlando" at news conference this afternoon.
"At this time we're looking at all angles right now," an FBI official said. "We do have suggestions that that individual may have leanings towards that, that particular ideology. But right now we can't say definitively, so we're still running everything around."
The FBI also said Mateen "was organized and well-prepared," adding "he is not from this area."
Mateen's parents were born in Afghanistan, and he was "on the radar" of U.S. officials for some time, but was not the target of a specific investigation, law enforcement officials told ABC News.
A police officer working at the club exchanged fire with Mateen outside of the club at 2:02 a.m., officials said at the news conference. Mateen then entered the club.
It turned into a hostage situation shortly thereafter, when Mateen took hostages. He was armed with an assault rifle, handgun and "some kind of device on him," officials said.
According to an eyewitness who played dead for thee hours inside the club, Mateen asked the hostages about their racial background, only sparing African Americans.
Mateen also made phone calls to 911 to demand that the United States "stop killing ISIS," and taunted hostages by saying, "I've got plenty of bullets."
At approximately 5 a.m., the SWAT team made the decision to rescue the hostages, officials said. The shooter was killed in a gunfight with those officers. Eleven Orlando Police officers exchanged gunfire with the shooter, according to an FBI spokesman.
There were about 320 people inside the club at the time of the shootings, officials said.
Then at 5:53 a.m. Orlando police tweeted, "The shooter inside the nightclub is dead," referring to Pulse Nightclub, which bills itself on its website as "Orlando's Premier Gay Night Club."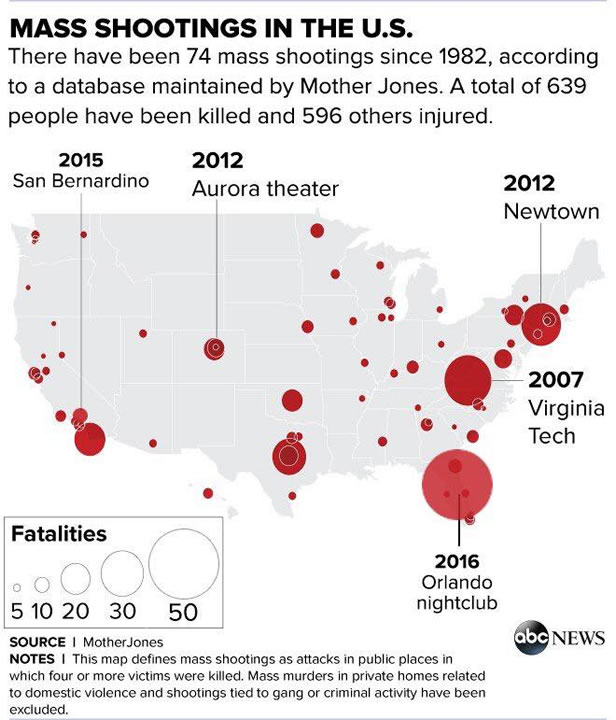 "This can be classified as a domestic terror incident," Orange County Sheriff Jerry Demings said at the news conference.
The Florida Department of Law Enforcement is investigating this morning's shooting as "an act of terrorism." It said it will determine whether it is "domestic or international" terrorism.
In a statement issued around 9 a.m., the White House said, "Our thoughts and prayers are with the families and loved ones of the victims. The President asked to receive regular updates as the FBI, and other federal officials, work with the Orlando Police to gather more information, and directed that the federal government provide any assistance necessary to pursue the investigation and support the community."
Relatives and friends, many in tears, gathered outside the hospital to learn the fate of loved ones.
Jackie Smith did not know the conditions of her wounded friends. She came out of the hospital and burst into tears.
Christine Leinonen drove to Orlando at 4 a.m. after learning of the shooting from a friend of her 32-year-old son, Christopher Leinonen, who was at Pulse and is missing. She had not heard from her son and feared the worst.
How to locate friends and family following an emergency
WATCH: Raw footage from eyewitness Anthony Torres
___
Associated Press writers Eric Tucker in Washington and Terrance Harris in Orlando contributed to this report.