NEW YORK -- We picked up with Vanessa confronting Nick about his time with Corrine in the bouncy house.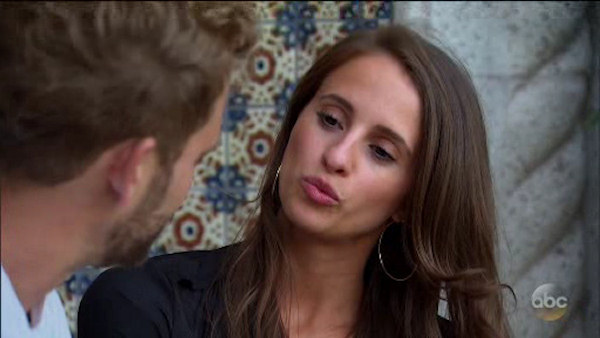 She did not hold back and he really got uncomfortable. But let's face it, he had this coming! Someone had to say it and it's probably best it came from someone who could really articulate what it meant to them and to the rest of the women in the house.
Chris Harrison came out and informed Nick that it was time for the rose ceremony. Taylor tried to talk to Corrine about the fact that she's "privileged" because she has a nanny and a ton of money. Corrine told her to get over it and leave her alone.
Roses went to:
1) Danielle L. (last week BSB group date)
2) Vanessa (last week one-on-one)
3) Rachel (last week group date)
4) Raven
5) Taylor
6) Whitney
7) Kristina
8) Jasmine
9) Alexis
10) Astrid
11) Danielle M.
12) Jaime
13) Josephine
14) Sarah
15) Corrine
That meant that sweet Christen and Brittany were sent home. Christen's goodbye was heartbreaking as she said, "I just want it to be my time!" All of the women were left wondering how Corrine could have made the cut. She then opened her big mouth and made speech about how they are all "privileged and honored" to be there for Nick. She rambled and made no sense. Everyone wanted beat her as they toasted with their champagne.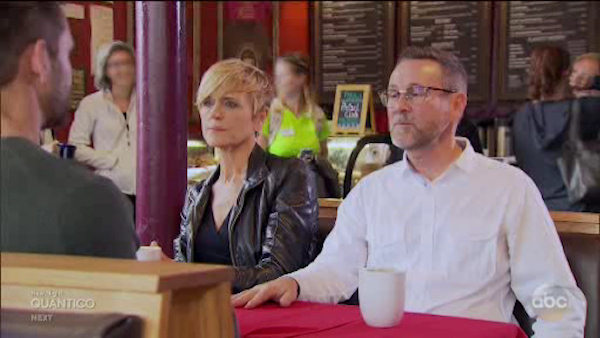 The next day, the women learned that they would be going to Wisconsin to see Nick's hometown and start their travels around the globe! Nick met up with his parents at a coffee house, by himself, sans women. He told his parents that last week was the first time he's more excited about this journey working out. He said that he feels the anxiousness that he felt being on the other side because he feels like he has something to lose. Could he be talking about one of the Danielle's, Rachel, or Vanessa? Nick said he's waiting for one relationship to outshine the rest. His dad joked, "I think I speak for mom when I say, we don't want to see you on this show again!"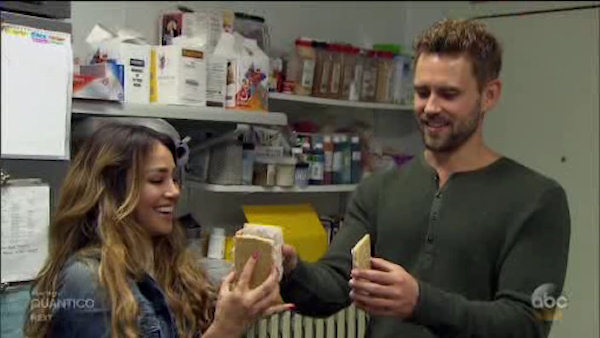 Nick then set off to meet the ladies in Waukesha, his hometown, and he asked Danielle L. to go with him on a one-on-one date. They left hand-in-hand and strolled through town. They stopped at a bakery where they decorated some cookies...really badly. After they kissed and left the cookie place, they walked past a coffee house and saw one of his exes in the window. The girls awkwardly hugged and they sat down to chat for a minute. They dated for a few months a while back. Danielle asked her why Nick is still single and she said that Nick is "heart driven" and needs to really feel it if he's going to go the distance in a relationship. Amber, the ex, only had nice things to say about him.
After that awkward encounter, they went to a park where they sat on the grass and talked about their past relationships. Nothing too exciting was revealed about either of them so they spent the rest of the time kissing. They spent their evening at a local bar where they shared drinks and hope of connecting on a deeper level. She said that her only flaw was that her parents divorced when she was 17, and now she questions what true love is. Nick seemed like he nearly cried hearing her story about how in love she thought her parents were, only to have her dad decide otherwise later in life.
A date card arrived at the hotel! It read, "Rachel, Alexis, Vanessa, Jasmine, Jaime, Sarah, Whitney, Kristina, Astrid, Taylor, Josephine, Danielle M., and Corrine, Say Cheese!" That meant that Raven was getting the other one-on-one date! The ladies were elated that Corrine wasn't getting that date!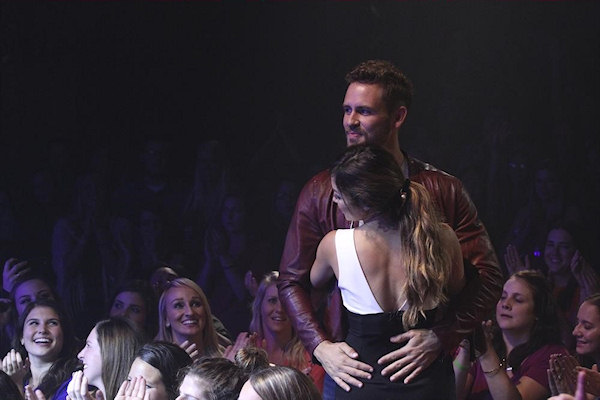 Back on the one-one-one with Danielle L. she told Nick that she wants to get married and have kids. She added that she didn't research him beforehand so she could make up her own mind about him. He picked up the date rose and offered it to her, which she gladly accepted. Then Nick told her that he had a surprise, and it turned out they were going to a concert by country music star Chris Lane! They danced on a platform while everyone in the audience looked on. They had a magical end to their great date!
On the group date, the ladies got in their farm gear a.k.a. jeans and headed to the country. They met up with Nick at a dairy farm. He thought it would be entertaining to see the women out of their element and see who could have fun with it. They fed the cows some hay and Corrine was not amused. She does not like doing chores of any kind, especially farm chores.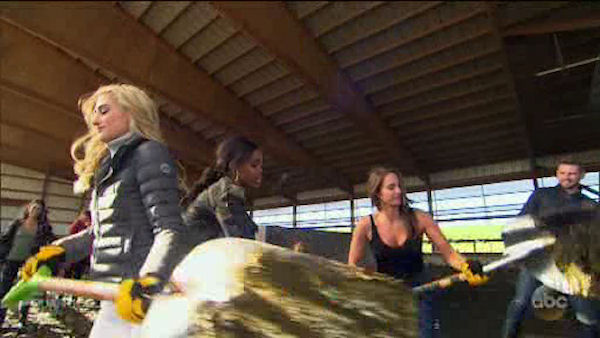 Then they took turns trying to milk cows. No surprise Corrine hated it. If you thought she didn't think milking was fun, how about shoveling poop?! Ha! She said it was the worst date she had ever been on and said, "I need sushi."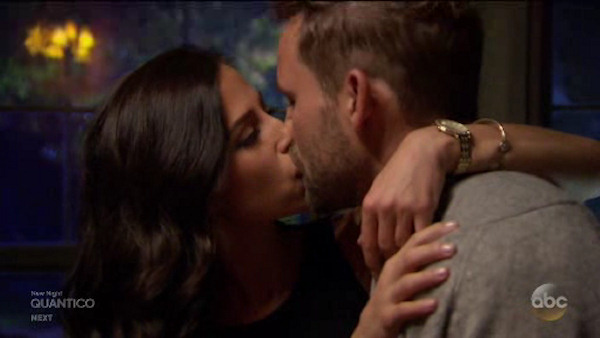 Later that evening, the women all got some time to chat and/or kiss Nick. Kristina made some headway and finally got to kiss him. It seemed like a last ditch effort to try and make a connection. Vanessa got cozy with Nick and showed him a scrap book that her coworkers and students made for him. I think it really gave him some insight to her personal and professional life. They seem so real together!
Meantime, Corrine confronted the other women about the fact that they were all talking about her. Sarah asked her if she really thought she could be ready to marry a 36-year-old man. Corrine said she didn't mean to offend anyone for sleeping during the rose ceremony. She added that it was a tough week and she just wanted to have some fun in the bouncy house with him. Corrine also said that she wouldn't stay in this uncomfortable situation if she didn't really like Nick.
Rachel told Nick that the situation is very hard for her and she doesn't like it. Nick told her she is doing great and she shouldn't worry. He tried to reassure her that he's really glad that she's there and he said he's willing to be patient for her to open up to him more. They kissed and it seems like they are still on the path to moving their relationship forward.
Kristina talked with Corrine and tried to be her friend. She tried to give her a bit of tough love, and Corrine called her only "friend" in the house disrespectful and said that she was done with the conversation and walked away. Corrine said that Kristina personally "attacked" her and walked over to Nick. She told him what was being said about her. Nick said that he's glad that she told him and he asked her if after talking to them if she felt better. She said she felt like a new woman. She noted that they didn't kiss, and they always kiss! Corrine thought she still had a shot at the group date rose, but lo and behold, Kristina, her former friend, got the rose!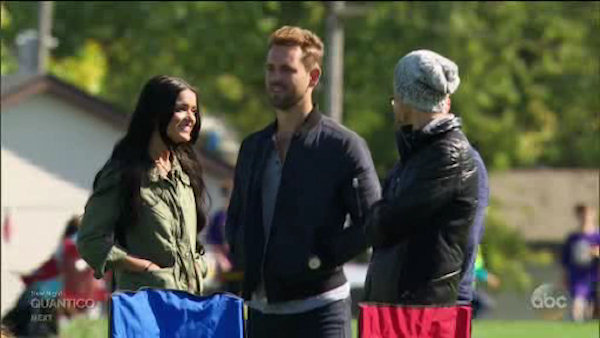 After that hot mess of a date, it was time for Raven's one-on-one with Nick. They met up with his little sister Bella! She had a soccer practice so they all played together and had some fun. It was really cute. Raven wasn't the greatest goalie though, ha! After the practice time, they watched Bella play in a game. They eventually went over to where Nick's parents were sitting and Raven got to meet them! It seemed to go well, they really liked her!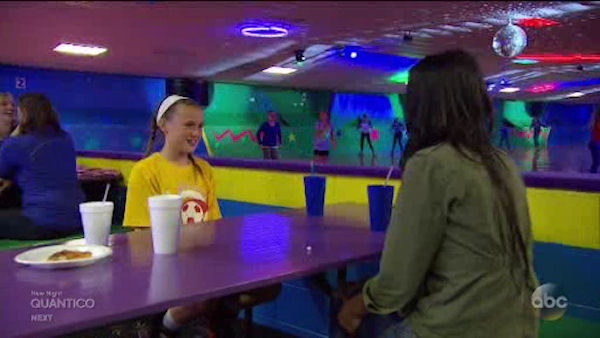 Following the soccer game they went to a roller rink and arcade and played games with the kids. Bella took some time to get to know Raven and it seemed like they got along great! Bella revealed that her parents wouldn't let her watch her brother on "Bachelor in Paradise!" Bella gave Raven her seal of approval and said she would love another sister-in-law. Nick took Raven skating and they seemed to have a really fantastic, fun date! Later, Raven told Nick the story about how a bartender friend told her about how her doctor boyfriend cheated on her. Nick offered her the date rose and she said "Yes!"
Before you knew it, it was time for another cocktail party and impending rose ceremony. Danielle L. has a rose, yet she grabbed Nick and led him away in her extremely low-cut dress. He could not keep his eyes on her face. Taylor got up and went over to interrupt them. If anything, at least it kept them from kissing again! Taylor sat down and snuggled up to Nick right away and he just dove right into kissing her. The kissing is happening constantly now with everyone! Josephine said that Taylor is mean and inappropriate for grabbing time with Nick (not sure why) and she told Corrine that she respects her for not saying anything behind other people's faces despite everyone talking about her. Corrine felt like she needed to take this opportunity to go confront Taylor about how fake and mean she is. Taylor said that she doesn't think Corrine is in a place to be in a committed healthy relationship. Taylor also said that Corrine isn't "smart" or "intelligent" when it comes to emotional maturity. Corrine kept saying "stop calling me stupid Taylor." "I can't believe she's allowed to have the title of mental health counselor, that's scary as *expletive*!" Corrine said. HA! Their fight was hilarious and profanity laced. We'll have to wait and see next week if one or both of them survive the week! I predict the first two-on-one date!