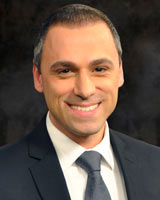 Foti Kallergis joined the ABC13 news team in September of 2013.

Foti Kallergis is an 11-time Texas Associated Press Broadcasters and Emmy Award winning TV journalist.

Foti Kallergis started his career as an intern at ABC13. After graduating from the University of Houston, Foti landed his first job at KFDM-TV in Beaumont. Several months into the job, Foti was chasing Hurricanes Katrina and Rita.

In 2007, Foti joined the KTBC-TV (FOX O&O) in Austin. Two days into the job, Foti found himself in a rink filled with snakes. The assignment, a rattlesnake sacking competition. Fearless in his daily news coverage, Foti was soon on the frontline of some of the state's biggest news events including the Bastrop Wildfire, West Fertilizer Plant Explosion, Governor's Mansion Fire, IRS Plane Attack and FLDS Ranch Raid. Foti also served as a local correspondent for national FOX news shows including "Studio B with Shepard Smith," "The O'Reilly Factor" and "On the Record with Greta Van Susteren." Foti also worked briefly at KVUE, the Austin,TX ABC-affiliate.

Aside from breaking news, Foti also enjoys entertainment reporting. He's interviewed a number of top Hollywood celebrities including Jimmy Kimmel, Ryan Reynolds, Will Ferrell, Neil Patrick Harris, Robert Duval, Bill Murray, Val Kilmer, Ryan Phillippe, Carrie Underwood, Ashley Greene, Shaq and many more.

In 2014, Foti won a Lone Star Emmy award for his spot news coverage of a big apartment fire. In 2016, Foti was awarded best spot-individual news coverage by the Texas Associated Press Broadcasters.

Foti Kallergis is thrilled to be back at ABC13 where his career first started. He's honored to be a part of Houston's number one news station. During his off-time, Foti enjoys extreme sports, traveling, go kart racing and other adventures with his son Aristos (Ari).

Foti is a native Houstonian, first generation Greek-American, proud single father and a twin.

---