SPRING, TX (KTRK) -- A suspected drunk driver accused in a crash that killed three family members was wanted by police on a prior drunk driving charge.
Harris County Precinct 4 Constable Mark Herman says 25-year-old Jeremy Valdez is facing three counts of murder charges in the deaths of a mother, father and their 18-year-old son after the violent crash in Spring. They were identified as Hilda Avila, 42, Emilio Avila, 34, and Mauricio Ramires, 18. Two surviving children, a 13-year-old boy and a 9-year-old girl, were not with the rest of their family at the time of the accident. The three were reportedly coming home from church.
PHOTOS: Three killed in crash with suspected drunk driver
The fatal wreck happened just before 12:30am on FM 2920 near Kuykendahl Road. Deputies say the family was killed when Valdez ran a red light at a high rate of speed, plowing his pickup truck into their car.
Ramires was a senior at Klein Oak High School and had just picked up his cap and gown because he was two weeks away from graduating on June 4. His principal and teachers say he was a kind, quiet student who was working hard to graduate. The students at the high school had just seen a "Live Your Dreams" presentation, which is an in-depth example of the dangers of distracted or drunk driving. The presentation was held on Wednesday and Thursday and will now be dedicated in Ramires' memory, said principal Brian Greeney.
"He was an amazing young man," teacher Jessica Hinton added.
Constable deputies reported smelling a strong odor of alcohol on Valdez's breath and deputies administered "other tests" which Valdez failed at the scene. Witnesses told deputies he appeared intoxicated after he was captured. Records show this is the fourth suspected drinking and driving related incident involving Valdez.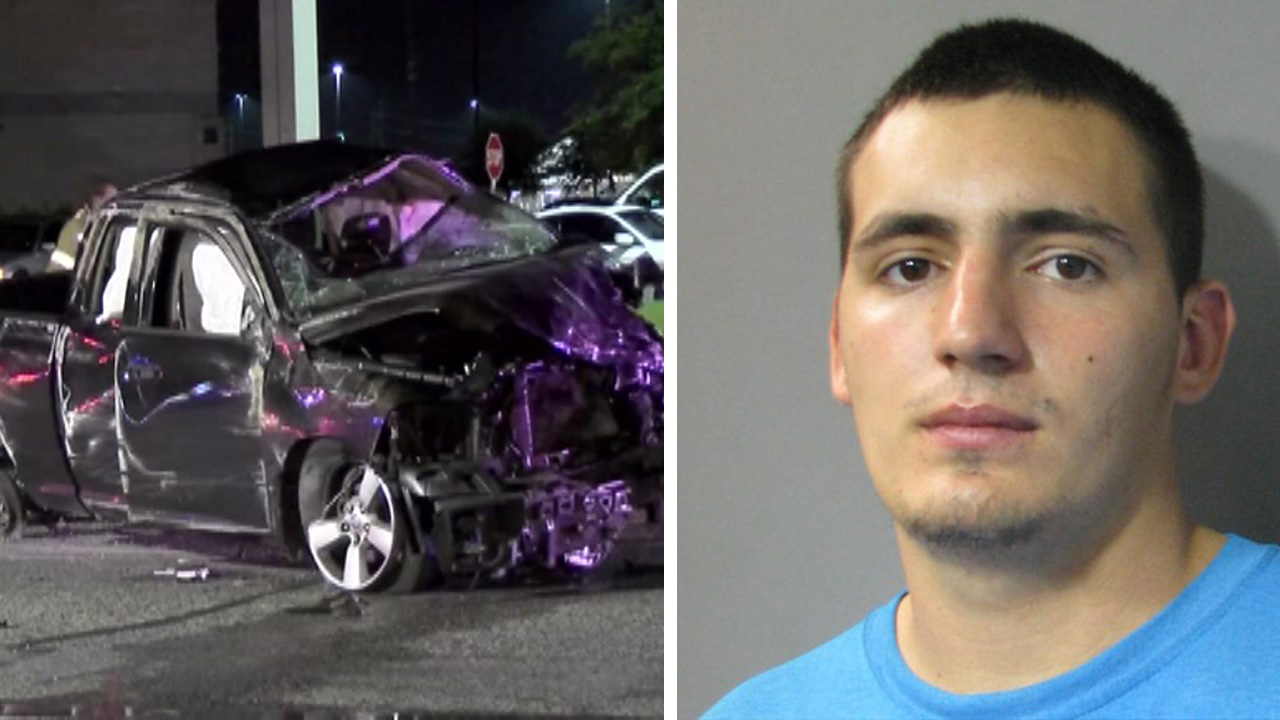 A wrecker driver is credited with capturing Valdez after he allegedly fled the crash site.
Lenniere Victorian said he was just down the road when the crash happened. Victorian says he spotted Valdez running off and chased after him. The wrecker driver, who ran track and played football, took off after the driver.
"I stopped right here and as soon as I get out, the other guy said the guy was running toward that-a-way which is toward the woods and me and another driver start chasing him around," Victorian says. "Finally we catch him on the back end and hold him down until the police got here."
Valdez suffered minor injuries in the accident and was taken to a hospital for treatment.
Deputies say they are conducting an investigation to determine if Valdez was in fact drunk. Witnesses told deputies he appeared intoxicated after he was captured.
Deputies say at the time of his arrest, Valdez was wanted on a warrant for a prior charge of driving while intoxicated.
If you would like to help the family cover funeral arrangements and other expenses,
CLICK HERE
.
SPRING CRASH FOLLOWS DEADLY PROM NIGHT ACCIDENT IN N. HOUSTON
This deadly crash comes only a week after a teenage girl and her date were killed after leaving the prom.
Jocelynn Valero, 18, died when suspected drunk driver Edin Palacios crashed his pickup truck into the car that was carrying the two teens. Valero's prom date survived his injuries, although he did require surgery after the crash.
VIDEO: Lawyer discusses deadly prom night crash
Palacios was allegedly trying to flee from police, who attempted to pull over the man after he was seen swerving near the North Freeway feeder road at Tidwell.
Lawyers for Palacios say the accident didn't have to happen and that Houston Police should have used a less aggressive approach to arrest him.
VIDEO: Dozens gather to remember slain teen at crash site
The attorney says Palacios intends to plead not guilty in the crash.
VIDEO: Driver charged in death of prom goer faces judge