HOUSTON (KTRK) -- Doggy day camp turned to disaster after one pet owner says PetSmart botched her pooch's care after he was attacked.
Michelle Lin says PetSmart offered to pay the vet bills after her dog was attacked in doggy day camp. But she says she's not after PetSmart's money. She wants answers that have been hard to come by.
"My dog is part of the family," Lin says. "So it's like, if something happens to him, I want to know about it. I want to know why."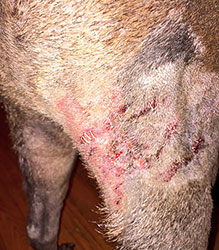 When Michelle Lin picked her dog Zen up from doggy day camp at the West Loop-59 PetSmart last Wednesday, she got disturbing news.
"I was informed that my dog had been bit and that they had taken him to the vet," she said.
Lin says PetSmart's vet patched Zen up with about 20 staples.
"Even how they tried to close up the wounds was a very shoddy job," she said.
So she took him to her own vet to fix what they believed PetSmart didn't do right, and then she went back to PetSmart to find out how Zen got hurt so badly.
"The fact that they said it was a bite, that he got bit, and it was really multiple bites, that kind of to me implies that there was time enough for that to happen," says Lin.
Eight days later, Zen has a cone around his head so he can't bite at his wounds. He's otherwise OK.
Michelle Lin tells us store management blew off her requests for a detailed report of the incident, and to see video from the security cameras in the room.
"If it really wasn't a big deal and there's video, why can't I see it so I can understand how it happened? I just want information," Lin said.
A PetSmart spokesperson confirms that another pet ran up to Zen and bit him on the hip and that he was immediately taken to the in-store vet. As for Lin's request to see the video, that spokesperson tells us they provide video to police with a written request and for all other third parties, they require a subpoena.
Among her biggest questions, Lin wants to know what kind of dog bit Zen. That PetSmart spokesperson says they don't have that information. She also says the customer care team will reach out to help Lin understand all the details they know.