MEET THE DISTINGUISHED SCHOLARS IN THE STEM CATEGORY!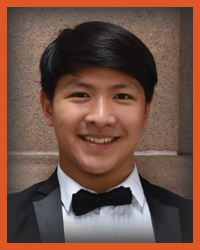 NAME: Wenson Tang
HIGH SCHOOL: Bellaire High School
GRADE: Senior
ACHIEVEMENTS: Wenson lives and breathes STEM. He enjoys taking as many classes as he can centered around that passion. He has competed in USA Biology Olympiad, the National Physics Olympiad, and the USA Math Olympiad, where he qualified for the AIME. Among many other academic endeavors Wenson is doing research for the NASA-sponsored Texas High School Aerospace Scholar Program and is the valedictorian of his high school.
GOALS: Wenson is interested in studying aerospace engineering or mechanical engineering at the Massachusetts Institute of Technology. IHe would like to make a career of transforming aerospace technologies into commercial products.