Earth Day calls for a fresh dish right from the garden! We've partnered with
Goya Foods
to bring you a recipe for a special dip that will be a hit at any party or a healthy snack for the family! David Nuno and Raheel Ramzanali are in the GOYA kitchen to demonstrate how simple this Zippy Black Bean Dip is to make. Serve it up with your favorite veggies or chips!
This Week's Recipe: Zippy Black Bean Dip
Ingredients
2 Cans
GOYA Black Beans
(Drained and Rinsed)
1/4 Cup Red Onion, Finely Chopped
1/4 Cup Tomato, Finely Chopped
1/4 Cup Fresh Cilantro
1 Tbsp.
GOYA Minced Garlic
1 Pepper from
GOYA Canned Jalapenos
(Chopped)
3/4 Tsp.
GOYA Ground Cumin
2 Tbsp.
Goya Extra Virgin Olive Oil.
1 Tbsp.
GOYA Lemon Juice
GOYA Adobo Seasoning to Taste
Fresh Cut Vegetables for serving
Instructions
1- In bowl of blender or food processor, combine beans, onions, tomatoes cilantro, garlic, jalapeño, if desired, cumin, olive oil and lemon juice. Puree until smooth, about 2 minutes; season with adobo.
2- Transfer bean dip to bowl; season with Adobo, to taste. Serve with vegetables.
Get A Printable Recipe
Tried this recipe?
Mention
@abc13houston
or
@goyafoods
on Facebook or Instagram!
Join the cooking party by using the tag #GoyaCooking.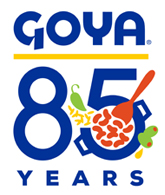 GOYA Foods turns 85 this year! The premier source for authentic Latino cuisine, Goya Foods is the largest, Hispanic-owned food company in the United States. Founded in 1936 by Don Prudencio Unanue and his wife Carolina, both from Spain, the Goya story is as much about the importance of family as it is about achieving the American dream.
Learn more about GOYA Foods.