HOUSTON (KTRK) -- My son is obsessed with 'surprise eggs.' This DIY from my colleague Adeina Anderson would be perfect to do with the kiddos! When you're done, your children can have fun cracking them open!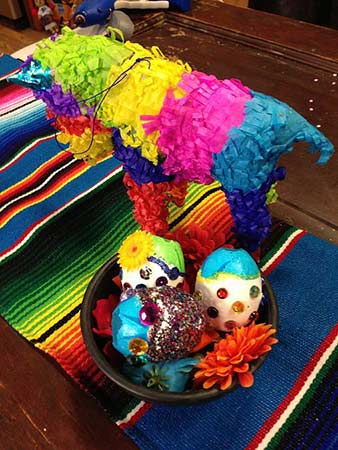 Items Needed
Uncooked eggs
Sharp knife
Tissue paper in various colors
Confetti and glitter
Americana Decou Page
Sponge brush
Americana Acrylic paint, various colors
Sequence and gems
Glitter glue
Craft Glue and glue dots
Directions:
Very carefully, poke at the top of the egg with the sharp knife, without breaking the egg. Make a big enough hole that you can get the inside of the egg out. Be sure to wash the inside of the egg really well with soap and water. Place the egg upside down on a paper towel to dry. Once the egg is dry, paint it with acrylic paint in. Let it dry completely, about 20 minutes, while it is drying, cut the tissue paper into squares big enough to cover the hole in the egg. Now fill the egg with confetti and glitter, and then paint decou page onto the top of the egg where the hole is and place a piece of tissue paper over the hole. To decorate the egg, use glitter glue or glue sequence and gems onto it with the craft glue, you can use glue dots. As always, remember to get creative and have fun.
Check out Adeina's DIY's at www.craftingwithadeina.com