KATRINA AND RITA: 10 YEARS LATER
If you missed our hurricane special that ran on Saturday, June 6, we've posted it all online below. Take a look back 10 years ago at Hurricanes Katrina and Rita and see changes made since those storms.
DOWNLOAD THE ABC13 WEATHER APP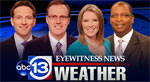 : Let us be part of your hurricane survival plan. Download the ABC13 Weather app to get audio alerts when weather threatens your location, plus interactive radars, storm forecast tracks and much more.
Download on iTunes
|
Download on Google Play