HURRICANE RESOURCES
:
Surviving the storm
|
Evacuation map
|
Threats
|
Before, during and after the storm
|
2016 hurricane season storm names
|
KATRINA AND RITA: 10 YEARS LATER
Take a look back at Hurricanes Katrina and Rita and see changes made since those storms.
Segment 1


Segment 2


Segment 3


Segment 4


Hurricane Tracking Maps

DOWNLOAD THE ABC13 WEATHER APP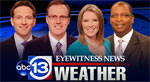 Let us be part of your hurricane survival plan. Download the abc13 Weather app to get audio alerts when weather threatens your location, plus interactive radars, storm forecast tracks and much more.
Download on iTunes
|
Download on Google Play