LOS ANGELES -- Two men wearing Anti-Lochte t-shirts disrupted the live "Dancing with the Stars" premiere in Los Angeles Monday night.
U.S. Olympic swimmer Ryan Lochte had just finished his performance with pro-dancer Cheryl Burke and was receiving his critiques from the judges at the time of the incident.
Carrie Ann Inaba was speaking when the two men burst onto the stage.
They apparently stood between the performers and the camera.
Security appeared to be quick at containing the situation and tackled the two men to the ground.
Inaba asked the men to stop as the show stayed on a split screen of her and a replay of Lochte's performance.
ABC went to a roughly four-minute break while the situation was contained by security.
Our sister station KABC-TV obtained this photo of two anti-Lochte protesters being detained. It is not yet known if these are the same men who rushed the stage.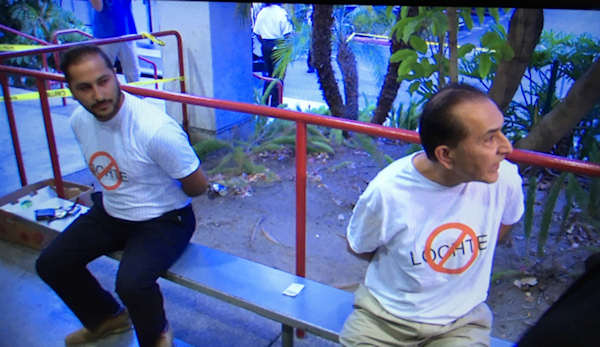 Protesters were also later seen being loaded into a police car outside the "Dancing with the Stars" studio.
The show came back live and said that there was an incident, but was not specific about what happened.
RAW VIDEO: Chaos at 'DWTS'
Fellow gold-medal Olympian, gymnast Laurie Hernandez's performance followed without incident.
After the incident, Lochte told ABC News that he was going to "brush it off, and keep going."
Lochte has come under harsh criticism after admitting that he embellished on an incident during the Olympics in Rio de Janeiro, Brazil. He and other members of the U.S. Olympic swimming team had reportedly caused damage at a gas station and were ordered to pay money by armed security guards.
Lochte had told the press that he was robbed at gunpoint.
Former "DWTS" champion Alfonso Ribeiro and host of "America's Funniest Videos" said that he was in the front row and scared. He didn't know if it was a big attack or just focused on Lochte.
Fellow judge Julianne Hough said that she also didn't know if it was a big attack because of "the world we live in today" and it was frightening.
Four to five other women were also escorted out of the audience as part of the group chanting against Lochte.
After the show was over, Inaba took to Instagram to thank the show's security guards.