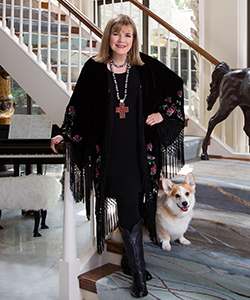 Meet Marilyn DeMontrond
Marilyn DeMontrond serves on the board of the Child Welfare League of America. She also serves on the Texas Council of Child Welfare Boards and was formerly the chairman, and currently serves on the Harris County Protective Services for Children and Adults board. She's a lifetime member of the Houston Livestock Show and Rodeo where she was a founding member and currently serves on the Junior Rodeo Committee as well as the International Committee. She enjoys reading, traveling, RVing and rescuing animals.
Marilyn is a native Houstonian. She graduated from the University of Texas with a liberal arts degree in Asian Studies. Prior to that, she attended Bowdoin College in Maine and the Hockaday School in Dallas. Her favorite teacher was George Strait's father in Jr. High in Pearsall, TX , and has been a fan of country music ever since!