BRAZORIA COUNTY (Mandatory)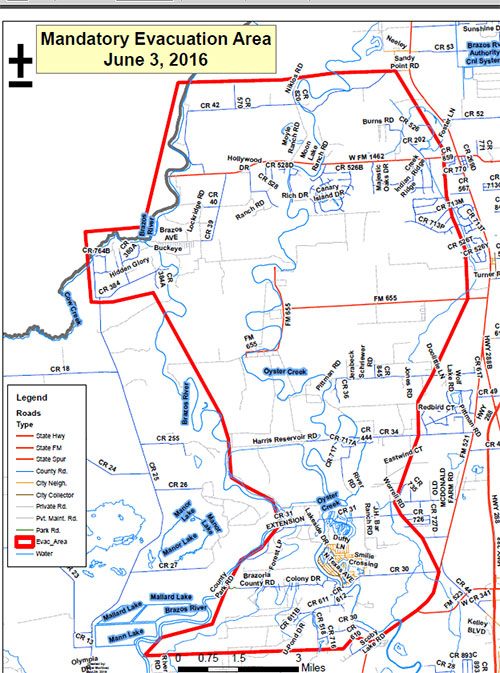 A mandatory evacuation has been issued for some residents in Brazoria County. County Judge Matt Sebesta made the mandatory evacuation order for residents living in the area west of Oyster Creek to east of the Brazos River on FM 1462.All roads off of FM 1462 between Oyster Creek and the Brazos River are under mandatory evacuation.
The city of Holiday Lakes in Brazoria County is under a mandatory evacuation. Details of the evacuation can be found here.
WHARTON (Mandatory)
Residents in the area bounded on the west by Wilkes Street, north by Hendon Street, east by Spanish Camp to ML King and ML King to Outlar, on the south by Camellia and also from South Sunset to Bell Street must evacuate by 7am Monday.
The Red Cross has opened a shelter for displaced residents at the Wharton Boys and Girls Club on 2120 Newton Street.
ROSENBERG (Mandatory)
The mayor of Rosenberg issued mandatory evacuations which went into effect Sunday at 2pm.
The areas impacted include:
*All properties north of River road adjacent to the Brazos River.
*All properties south of Barker Road adjacent to the Brazos River.
*The north side of the railroad track from 5th to 8th (west to east) AND from the Brazos River to Avenue B (north to south)
*West Street and Mulcahy Street: north of Avenue D
There is a shelter set up at the First Baptist Church on Richmond. People are asked to pack lightly if possible. Transportation to the shelter is available between 2 and 4 at A.W. Jackson Elementary.
SIMONTON (Mandatory)
The mandatory evacuation has been ordered for Sections 1, 2, and 3 of Valley Lodge Subdivision due to conditions on the Brazos River.
The river continues to threaten lives and property as the waters rise, officials say, and that threat will continue to increase for the next several days.
In a statement, the Mayor's office cites rising river levels and forecast information from the National Weather Service. Specifically, authorities are concerned about the Livingston Dam.
The Red Cross has set up a shelter to help displaced persons at the Shepherd Community Center (10251 TX-150, Shepherd, TX 77371).
MISSOURI CITY (voluntary)
Missouri City Mayor Allen Owen issued a voluntary evacuation order for select areas of the city on Sunday evening as the Brazos River continues to rise.
The following areas are included:
Lake Olympia Subdivisions: Flamingo Island, Jade Island, Swan Isle
Lake Olympia Streets: Chappell Lane, Peninsulas Drive, Woodlake Lane
Quail Valley Streets: Boca Court, Covey Trai,l Kiamesha Drive, Tamarisk Lane, Thunderbird Street
Portions of Fort Bend County are under a river flood warning "until further notice," according to the National Weather Service. The Brazos is expected to rise above 53 feet on Tuesday, at which point it will begin to fall.
PHOTOS: Flooding and storm damage across SE Texas
BRAZORIA COUNTY
BRAZORIA COUNTY (residents urged to prepare)
County officials said Sunday evening that the Brazos River is expected to reach major flood stage on Memorial Day and remain high at least through next weekend. Although they stopped short of issuing a formal evacuation order, County Judge Matt Sebesta's office urged residents in the following areas to "prepare NOW and be ready to evacuate" as water rises:
Sandy Point
West Rosharon
Holiday Lakes
Bailey's Prairie
Bar X
Sun Creek Ranch
East Columbia
Mallard Lake /CR 25 area
Planter's Point
Longhorn Estates
Oakwood Creek Estates
All areas between Angleton and West Columbia/Hwy 35
Brazos River Floodplain, Oyster Creek Floodplain and Upper Bastrop Bayou
Public shelters with cots have opened at Old Angleton Intermediate School/Angleton ISD Administration Building (1900 North Downing Street, Angleton, Texas) and Christ Lutheran Church (86 Plantation, Lake Jackson, Texas).
Residents who require help moving livestock to higher ground are urged to contact the Brazoria County AgriLife Extension Office at 979-864-1558.
Furthermore, Cow Creek bridge at CR25 will close at sunset on Sunday, May 29th.