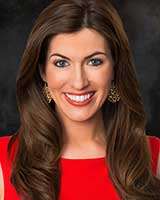 Natasha Barrett is the weekend evening anchor and consumer reporter at ABC-13. Joining ABC-13 is a return home for the Houston native, who is a Cypress Falls High School graduate.

Before Houston, Natasha spent eight years at the ABC affiliate WJLA in Washington, DC. She hosted a daily talk show where she interviewed celebrities and politicos while also covering big stories such as the Navy Yard shooting, the East Coast Earthquake and the Inauguration of President Barack Obama. While in Washington, she also worked as a consumer reporter.

Natasha's previous assignment was also on the east coast at WVEC, the ABC affiliate in Norfolk, Virginia, as an investigative reporter. While there, Natasha uncovered an ongoing deadly exposure of lead contamination to police officers, led police in apprehending a child predator and assisted in the apprehension of a serial robber.

Natasha received a Best Investigative Reporting award from the Virginia Associated Press. She also traveled extensively, covering several major hurricanes, including Isabel in Hampton Roads, Ivan in Alabama and Florida, and Ophelia in North Carolina.

Natasha's early career began in Texas. At KCEN, the NBC affiliate in Waco, Texas, she covered the tragic Space Shuttle Columbia disaster, historical post events surrounding the attacks of September 11th at Fort Hood -- one of the largest Army Posts in the world -- and world leaders meeting at President Bush's Crawford Ranch. For her hard work and diligence, Natasha was honored by the Texas Associated Press with a Breaking News award.

Natasha also worked in Corpus Christi, Texas, at the CBS affiliate, KZTV, where she covered several national stories and the Naval Air Station. She also worked behind the scenes at CNBC Europe in London and CBS News in Washington.

Natasha is a graduate of American University in Washington, where she double-majored, earning a degree in Broadcast Journalism and Computer Information Systems.

Natasha joined ABC-13 in 2014. She and her husband Scott have two children.

---