HOUSTON (KTRK) -- A man is spending Christmas Eve in the hospital just because he was trying to do the right thing.
He was shot following a robbery at a gas station on Homestead at 610, but is expected to be OK.
Police are looking for the two suspects and are reviewing surveillance video.
Investigators say around 7am on Thursday two masked black men walked into the gas station. The clerk said the crooks held a gun to his head and forced him to the ground. The suspects took off with cash and lottery tickets.
Meanwhile, a regular customer, deemed a good Samaritan, followed the two men. They traveled about five miles south before the chase ended on Clinton.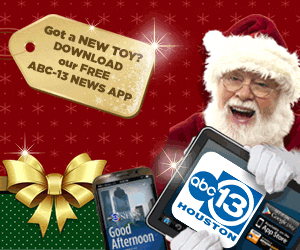 Steven Urias was collecting trash and saw everything.
"He ((the good Samaritan)) clipped the back bumper because he was right up on them," said Steven Urias, a witness.
Then moments later, Urias said someone in the suspect's green Mazda shot at the good Samaritan.
"The passenger started shooting. He got him once in the arm. He got lucky cause he shot him like four or five times," said Urias.
The victim was hit once in the arm. He went to the hospital where he had surgery for a broken arm. The suspects took off.
The victim's brother said the two visit the store often and that's why his brother took action.
"We just look out for each other, in the neighborhood," he said.
Still, police say if you witness a crime get a license plate, a good suspect description, be a good witness but don't put yourself at risk.
The Houston Police Department's Norman Wallace said, "Your best bet is to immediately call police. Give them a good description. Let police handle it."
The victim's brother is just grateful he's OK.
"I think Christmas came early in a way and my brother's here," said the brother.
Investigators have not provided a detailed suspect description at this time. The witness described the suspect's car as a green Mazda 626.