WINSTON-SALEM, NC (KTRK) --
A North Carolina restaurant is giving a 15 percent discount to people who pray or display gratitude before eating their meal.
Restaurant owner Mary Haglund has been giving the discount for the past four years saying she enjoys watching customers take a moment to reflect before eating.
"It's a gift to us to watch them appreciate our food," Haglund told
TV station WGHP
.
The restaurant's
Facebook page
says the discount is for customers who take a moment before their meal.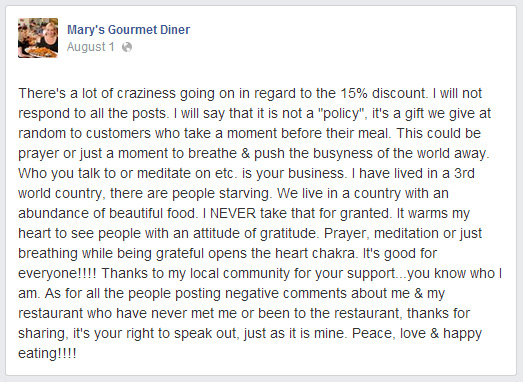 "This could be prayer or just a moment to breathe & push the busyness of the world away," the Facebook posts reads. "It warms my heart to see people with an attitude of gratitude. Prayer, meditation or just breathing while being grateful opens the heart chakra. It's good for everyone!"
Haglund told WGHP the discount has nothing to do with religion, and it's the discretion of each individual server whether to give the discount. She says some of her wait staff choose to give the discount while others don't.
"We don't tell the people they're getting a discount," Haglund said. "We've never promoted it. We just present the ticket."