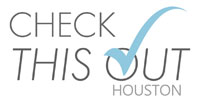 Check This Out is an informative and entertaining program that showcases anything and everything Houstonians want to know. Check This Out blends excitement and energy, along with good ol' fashioned fun into a recipe specifically created to engage local viewers. In our February 15 episode, host Kat Cosley had tips for keeping your home up to date and working well! She also dives into the latest health solutions.
Watch the latest episode, weekends at Noon on the Localish Channel. Tune in info below:
Over the air - 13.2
Charter Spectrum - 783
Comcast Xfinity - 685
New Wave - 172
Suddenlink - 125
WATCH SEGMENTS FROM OUR FEB. SHOW
Moore Supply Co.
Shower Doors of Houston
ABC Home & Commercial Services
Abacus Plumbing
Rorick Health & Sexual Wellness Institute
Innovative Lasers of Houston
HUB Auto Group
CHECK THIS OUT IS SPONSORED BY