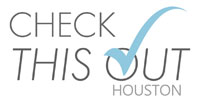 Check This Out is an informative and entertaining program that showcases anything and everything Houstonians want to know. Check This Out blends excitement and energy, along with good ol' fashioned fun into a recipe specifically created to engage local viewers. In our August 1st episode, host Kat Cosley highlighted GOYA Foods to see how they're helping Houston durring these unsire times. She also will have great tips for your health, summer activites for the family, education and more!
CHECK THIS OUT IS SPONSORED BY

Watch Segments from Our August 1st Show!
GOYA Foods
CCA Star Fishing Tournament
Moody Gardens
San Jacinto College
HUB Auto Group
Innovative Lasers