Goodwill works to enhance the dignity and quality of life of individuals and families by strengthening communities, eliminating barriers to opportunity, and helping people in need, through learning and the power of work. Every person has the opportunity to achieve his/her fullest potential and participate in and contribute to all aspects of life. With that idea in mind Goodwill has partnered with ABC-13 to unveil a new series that highlights individuals who are striving to be the best that they can be and excelling, through the help of Goodwill's employment programs. Each month a different Goodwill employee, client, volunteer or donor will be featured and will share their story on how Goodwill changed their life. This month, we are highlighting Westley. Read his profile and view his video below to learn more about how Goodwill changed his life.

LEARN MORE ABOUT GOODWILL'SEMPLOYMENT INITIATIVE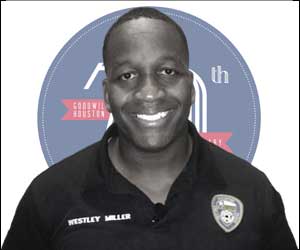 Meet Westley -- Success Story of the Month
Westley had always dreamed of being a fire fighter, but his path to reach that goal was not easy. After serving in the military for several years, he and his family found themselves living in their vehicle. Westley was unable to find employment anywhere until he found Goodwill. Through their Veterans programs, Goodwill was able to get Westley a temporary construction job, while he trained to be a Fire Fighter. Today he serves at Houston Fire Station 68. Westley's life was changed by the power of work and Goodwill's mission.
GOODWILL VIDEOS
IMPROVING YOUR LIFE THROUGH GOODWILL

Thought you could only find clothes at Goodwill? Not anymore!

Be on top of all the trends with the help of your local goodwill store