Live Caring Cradles Event
Friday, June 6, 2014
6am-6pm
ABC-13 Studios
3310 Bissonnet St. Houston TX 77005
Join ABC-13 and the March of Dimes on Friday for our live Caring Cradles Community Baby Shower. Your donations will be used to encourage women to attend prenatal care and education programs. Donate diapers, wipes, baby food, new or gently used baby clothes and furniture at our host location, the ABC-13 Studios, or at our other donation locations.
Here are the items we're accepting
.
Can't make it to the Live Drive?
Visit ABC -13 Studios between now and June 6 or
donate online today
!

BENEFITTING AGENCIES
Asian American Health Coalition-HOPE Clinic
Conroe UTMB Maternal and Child Health Center
Legacy Community Health Services, Inc.
Montgomery County Women's Center
Santa Maria Hostel, Inc.
Shiloh AME Church: The Honey Child Program
Baylor College of Medicine Teen Clinic
Greenspoint Baptist Church: The Honey Child Program
Lone Star Family Health Center
Pregnancy Assistance Centers
Stork's Nest: Lambda Chapter of Zeta Chapter Phi Beta Sorority, Inc.
UTMB Regional Maternal and Child Health Program
How are we doing?
Throughout our Caring Cradles Community-Wide Baby Shower, we'll update the amount raise by raising the level of the baby bottle.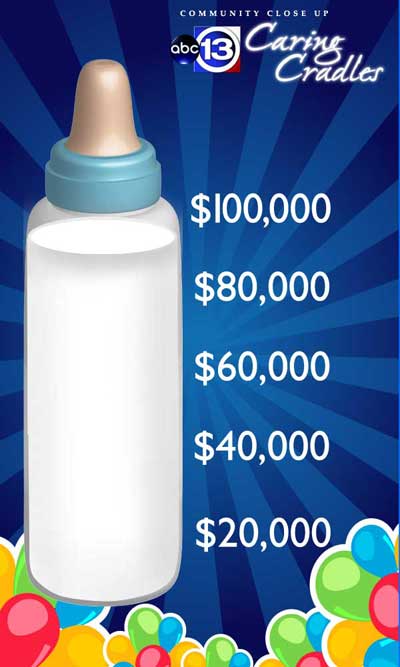 Recipes featured on the program
We featured two recipes on our Caring Cradles broadcast Friday.
Get them here
Local March of Dimes Programs
Becoming a Mom/Comenzando bien
Centering Pregnancy
Healthy Babies are Worth the Wait
The Honey Child Program
The NICU Family Support Program
March of Dimes Houston:
Online: http://www.marchofdimes.com/texas/
Phone: 713-623-2020
Links from Caring Cradles broadcast
Sleep and Home Safety
Texas Children's Blog
Childproofing your home
Preggonista
Share Your Story
Deals (Live Well Network)
Molly Fowler, The Dining Diva