HOUSTON (KTRK) -- Last Friday, Delena met up with her daughter around 7:30pm at Dillard's in The Galleria.
"I came in off of South Post Oak here at Westheimer. I turned in. The parking lot is dark," she recalls.
After shopping for about an hour, she says they hopped into her daughter's car and drove across the street for dinner. When she returned a couple of hours later her car had been towed.
Delena says she was told it was because she left her car there after business hours.
Mark Denson, owner of On Site Towing, says that can happen at a property owner's discretion. However, Delena could try to fight the charges on a towing sign technicality.
"The distance it's posted from the public roadway... with a quick estimation is probably about 50 feet from the roadway," Denson says.
The Texas Department of Licensing and Regulation confirms that tow signs must be on the right or left side of each entrance.
That's not the only regulation Denson says you should know. Driving down Washington Avenue, he showed us several examples of sign violations he says you could fight and possibly win.
First, look at the sign's height. The bottom edge must be no lower than five feet and no higher than eight feet.
Next, look where the sign is posted. They must be "permanently affixed to a pole, permanent barrier, or permanent wall."
Then, pay attention to what Denson calls "secondary" or "courtesy" signs that some business put up.
TIPS: SAMPLE TOW SIGN WITH DESCRIPTIONS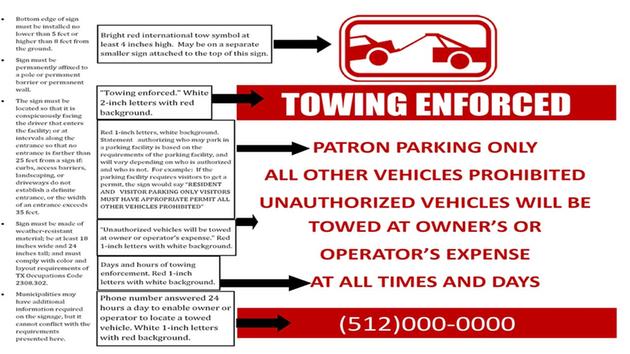 "The only sign that the state really looks at is those red and white tow signs," he says.
Even then, the signs have to be specific including the international towing symbol, the words "towing" or "booting enforced" at the top, who can park there, the days and hours of enforcement, and a phone number that's answered 24-hours a day.
Dillard's told us over the phone they have numerous signs posted around the lot stating no parking after business hours and that vehicles will be towed at the owner's expense.
With that sign placement discrepancy in hand, Delena plans to fight the towing charge.
"I want my money back," she says.
It's important to note, TDLR says while these are state regulations for tow signs, it's up to the judge to make interpretations and final decisions if you dispute your tow.
Tips on Fighting a Tow from Mark Denson, Owner of On Site Towing:

If your vehicle has been towed, ALWAYS take photos of the location you parked, and EVERY entry and exit point of the parking facility. Make sure that you identify if towing warning signs are present and, if so, get good clear photos of the signs. Have someone stand next to the sign to help estimate the height of the sign. You can use all of this as evidence.
Next, located your vehicle by calling the number on the towing sign. This number must be answered 24/7 to help you locate your vehicle. If no one answers, make a note. You can use this as evidence as well.
Once your vehicle is located, proceed to the storage facility to pick it up. When getting the vehicle, make sure to get a copy of the storage receipt, towing receipt, and consent tow rate price sheet. Always ask for a copy of any persons' license you come in contact with. Verify that the person is the person that is listed on the invoice you are provided.
Take photos of the vehicle BEFORE you move it. Report any damage to the storage facility BEFORE you leave.
Always call the towing service and ask for proof that your vehicle was towed. If they do not provide you with proof, file a tow hearing.