LAKEVIEW, Long Island --
A charter bus carrying teenagers returning from a spring break trip Sunday night struck a bridge overpass on Long Island, seriously injuring six passengers and mangling the entire length of the top of the bus.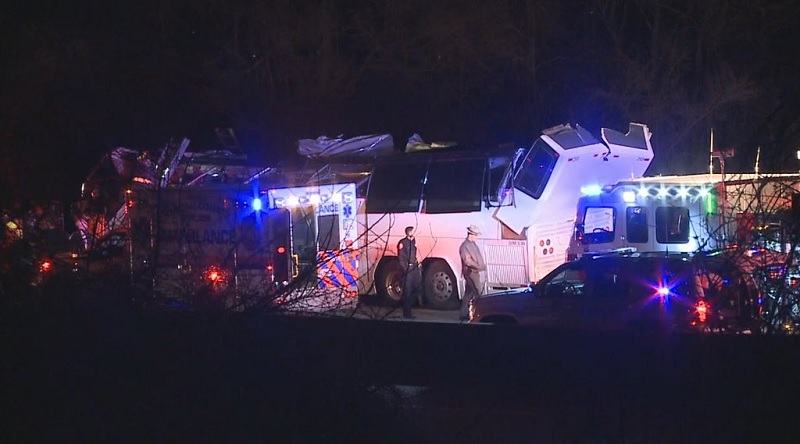 The top of the bus was sheared off after reportedly hitting an overpass near Exit 19 in Lakeview on Sunday just after 9 p.m.
One of the six injured passengers had very serious injuries, said State Police Maj. David Candelaria. Thirty-seven other passengers suffered minor injuries.
WARNING: Graphic language
"Everybody was able to walk out except one, which we extricated," Lakeview Fire Department Chief Patrick McNeill told Newsday. "There was glass everywhere. The roof of the bus is down to the top of the seat covers."
Video shows teenagers sitting and standing outside of the white damaged bus, some draped in blankets, as firefighters inspect the wreckage. Multiple ambulances and firetrucks responded to the scene.
The 38 students from various Long Island high schools, along with five chaperones, had just returned from John F. Kennedy International Airport and were heading to a shopping mall to meet up with parents, police said.
Police said the driver was being evaluated and did not seem to be familiar with commercial vehicle restrictions on the parkway.
The minimum clearance on the parkway is 7 feet, 10 inches (2.38 meters) and accidents involving vehicles striking overpasses is not uncommon on the parkway. In 2017, there were reports that an electronic alarm system would be installed on the parkway to warn drivers of vehicles too high for the overpass.
The Associated Press contributed to this report.