CARY, NC -- When it comes to running, wearing the proper footwear can make a huge difference not only in comfort, but also in preventing injuries. So how do you know if you're wearing the right shoes?
Experts say your best bet is to ask a trained professional, which often means heading to a store that specializes in running gear. It was advice Mindy Gray took to heart when she started training for marathons 6 years ago, stopping in Raleigh Running Outfitters in Cary for an evaluation and some advice.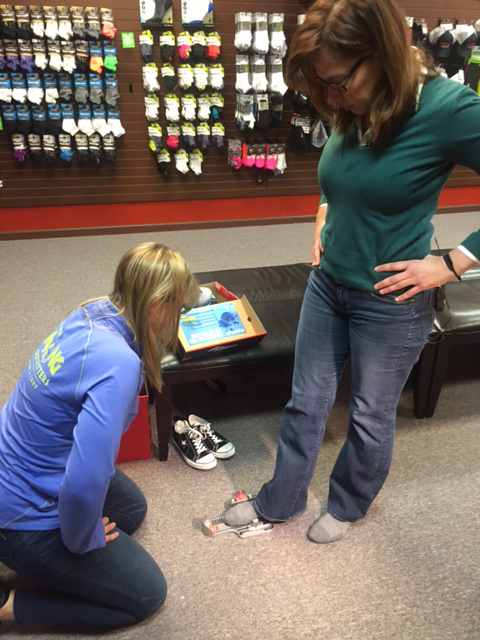 "We changed out a couple different pairs and found that a good neutral shoe with a lot of cushioning was very helpful," Gray recalls. "Afterward I didn't have any problems, no injuries, no stress on the muscles, it's been great."
The good news is that having this done at RRO and other locations is a service that's free, with no obligation to buy. And it gives you a chance to not only try on the shoes, but run in them, to see if they feel comfortable or if there are any spots where you notice pain or rubbing, something that can vary from shoe to shoe.
"Everybody's body is different, everybody's running style is different, everyone's biomechanical physiology is different. And if you're actually not in the correct type of running shoe you can do injury to yourself," cautions RRO District Sales Manager Taylor Matchok.
It's something Adam Scott learned the hard way, dealing with shin splints and other issues when he first started running four years ago.
"If you don't actually have a pair of real running shoes it really does make a big difference, especially starting out," Scott admits.
That's what brought him into Raleigh Running Outfitters where he, too, underwent a full evaluation and found a shoe that now works for him.
"Honestly, at this point I never feel the shoes hold me back," he claims.
When it comes to running shoes, experts say there are three main types, neutral, support, and motion control. And, while trained staff can show you the difference, there's an easy test you can perform yourself that might yield some clues.
"I always like to do what I call 'the crunch test,' when in doubt," explains Matchok. "So, take that shoe and just ball it up. If it crunches up and it's soft, that's telling you there isn't a supportive mechanism in there to change the way you run. The purpose of that shoe is just to cushion your natural gait."
Meanwhile, the next step up is the stability shoe, which will crunch far less if you try to fold it in half.
"So there's a stability quotient in the shoe that's going to keep you from, what we call, over-pronating, or essentially your arch from flexing and unflexing. So, that's going to take some of that stress off of your foot," Matchok adds.
Finally, there's the most rigid of the shoe types, a motion control shoe.
"It's going to be very, very firm, very, very rigid, very supportive. Essentially it's not going to allow your foot to flex at all," Matchok points out, meaning that you won't be able to move the shoe at all if you try to subject it to the "crunch test."
To determine which of these models is your best bet, staff will give you a biomechanical assessment, that involves putting you on a treadmill and watching the way you run. They'll also measure your foot to make sure you're in the correct size. One tip they like to pass along, you should always go up half a shoe size when picking out running shoes to allow for swelling in your feet. And, experts warn it's almost equally important to wear the right socks.
"We have a saying in the running industry, cotton is rotten. What cotton does is, it's this fabric that loves wicking away moisture, but as it does this it becomes very heavy, very abrasive. So, when you're out on your run, out on a warm day, yeah it's wicking away all that sweat, but it's actually getting looser and it's starting to rub you and chafe you. So, you're going to have blisters, you're going to have hot spots," Matchok explains.
Experts agree following these suggestions can make your running more enjoyable and keep you from being sidelined by an injury. But, be prepared to start your shoe search all over again after 6 months of use or 500 miles, whichever comes first. Running in "worn out" shoes can also cause injuries.
For more on picking out the proper running shoes from WebMD, click here