HOUSTON (KTRK) -- A scaled-back search continues for a suspected burglar involved in a shootout that left one Houston police officer critically injured and another in serious condition. A second suspect was killed by police. That suspect was identified as Earl Riley.
Crime Stoppers and 100 Club are offering a $20,000 reward for information leading to the suspect's arrest.
SWAT and K-9 officers continue to search for a black male suspect wearing dark clothing and a blue bandana. He is considered armed and extremely dangerous, according to Houston Police Chief Art Acevedo.
If you're viewing on our ABC13 news app, tap on the photo above to see more images.
The scene unfolded in the 8700 block of Sterlingame just before 12:30pm, when authorities were tipped off to a burglary in progress.
Officer Ronny Cortez, a 24-year veteran of the department, was searching the area with 10-year veteran Officer Jose Munoz when they were both shot multiple times by at least one armed suspect.
"Two of our officers actually jumped the fence and went into that backyard to clear that storage shed when a male Hispanic suspect opened the door, came out and opened fire on our officers," Acevedo said. "Officers were able to return gunfire."
Ironically, Cortez lives in the same neighborhood. Jeffrey Willis talked to him just 20 minutes earlier as Cortez was checking houses following reports of more than one burglary.
"I said, 'Ronny, what's up?'" explained Willis. He (Cortez) told me, 'Stay inside, keep your doors shut. I'm trying to hunt this guy down.'"
Munoz was taken to Ben Taub Hospital with non-life threatening injuries to his foot.
Cortez, who was taken to Memorial Hermann Hospital, is in critical condition. He was reportedly able to visit briefly with his wife, but a bullet is lodged close to his spine.
Cortez's daughter attends college in Boston, where police officers drove her to the airport.
Click here for everything we know about Officer Cortez.
Mayor Turner asked everyone to pray for all police officers as he gave an update on Cortez and Munoz in Wednesday's city council meeting.
On way to officer involved shooting if you're a person of faith please pray for our officers.

— Chief Art Acevedo (@ArtAcevedo) February 28, 2017
@FirefightersHOU have our HPD sisters/brothers in our thoughts and prayers today after 2 officers were hit in shootout w/ burglary suspects.

— Houston Firefighters (@FirefightersHOU) February 28, 2017
As law enforcement searched the neighborhood for the suspect, Acevedo cautioned residents to take shelter or avoid the area for several on Tuesday afternoon. For several hours, 1,800 homes and three HISD schools -- Valley West Elementary, Gross Elementary and Welch Middle schools -- were placed on lockdown.
"It's very nerve-wracking, knowing there's someone running around with a gun," said one resident.
"I want to apologize to that neighborhood for the inconvenience that is going to be going on for the next few hours," Acevedo said. "But for someone that is willing to shoot and try and kill two fully uniformed officers in broad daylight -- that is someone that won't hesitate to kill a person in that community."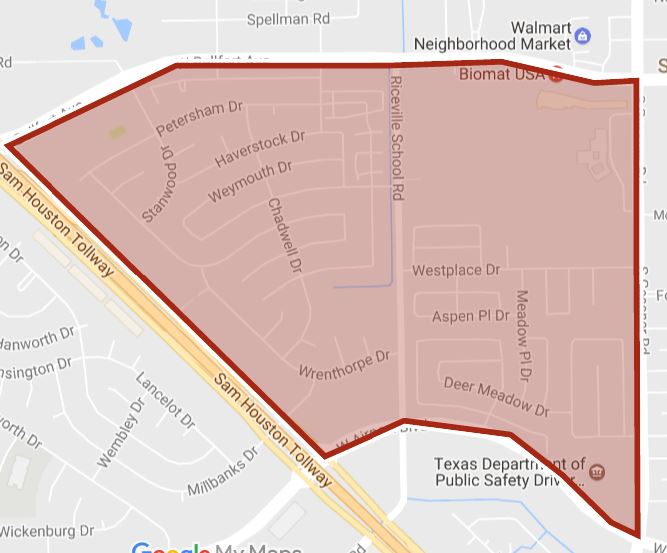 The chief said three homes in the neighborhood were burglarized Tuesday, and while police didn't know if all three were connected, the suspect killed in the shootout was involved in at least one of them. It happened in Chris Constantino's backyard. He knows Cortez as his neighbor.
"Pretty fine gentleman. I really appreciate what he did today. If it wasn't for him, you know, it could have been worse. I really appreciate his service today," Constantino said.
According to an analysis by ABC13, the neighborhood in which the shooting occurred has experienced 84 crimes over the past three months. Of those, 15 were violent -- nine cases of assault with a deadly weapon, for robberies and two sexual assaults.
If you would like to donate to help the officers' families, visit assisttheofficer.com.
The Associated Press contributed to this report.PROGRAMMING NOTE: Due to extended Eyewitness News coverage of this developing story, we will rebroadcast
General Hospital
tonight at 1:37am.