PEARLAND, TX (KTRK) -- September 13 is the birthday of Linda Ann Rogers. Today her family went to celebrate it beside her grave at Houston Memorial Gardens Cemetery in Pearland, but the day turned out far different than they intended.
Her grave and marker were covered in mud, uneven, and the grave of Rogers' mother was mired in dirt, the burgundy monument barely recognizable to her family.
"I think today the devil is actually working," said daughter Ladesha Ellis, "Because we know exactly where she is and this is what we walk into."
Her family suspected a recent burial was to blame, because of truck marks across the family plot. They say other resting places were disturbed as well.
Of the driver, Ellis said, "it's like he reversed and did donuts and came back. It's sad."
Ellis says she and her sister visited the grave earlier this month, and all was well. Today they brought flowers and birthday balloons.
"There's nowhere to put them," she said.
The cemetery office is closed on Sundays, but a manager saw the family, and approached them.
"This should not have happened," office manager Rhonda Buckner told the family repeatedly. She says there was a burial in recent days, the work complicated by several days of heavy rain.
She says the cemetery was not told of problems until she met the family today.
"We've got the head caretaker coming out and we'll work at getting this straightened out," said Buckner.
Late today, we received a picture of Rogers' marker reseated, with flowers and balloons around it.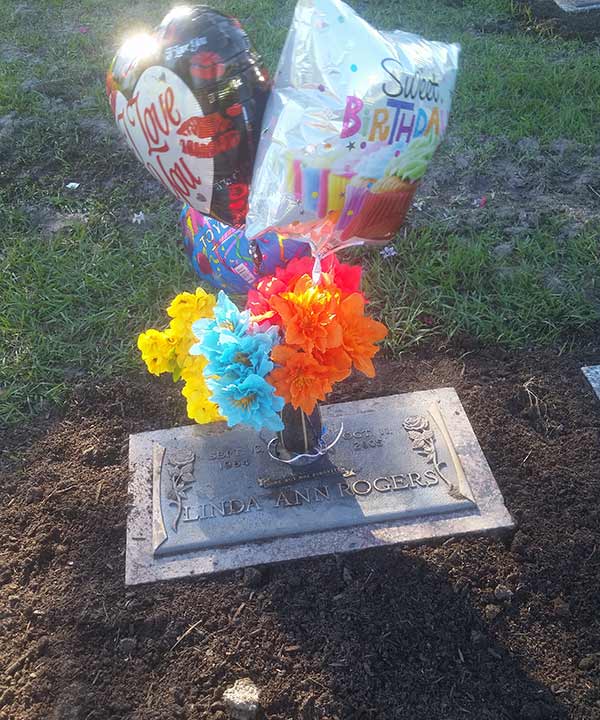 More work may be required on Rogers' mother grave.