HOUSTON (KTRK) -- Investigators hope you can help them identify a person of interest in connection to an attempted carjacking and shooting in east Harris County.
It happened on December 30. Police say the victim was pumping gas at a gas when someone approached him and demanded his keys at gunpoint. During the confrontation, the suspect shot the victim in the leg.
The victim then gave his keys to the suspect. The suspect then got into the victim's vehicle, but for some reason, wasn't able to drive off in it.
He was last seen walking away, heading north on John Ralston.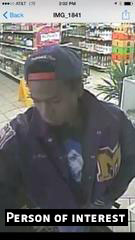 The victim was taken to LBJ Hospital with non life-threatening injuries.
The suspect is described as a black male, slender built, approximately 5 feet, 5 inches to 5 feet, 6 inches tall and in his early 20s. He was wearing a two-tone blue hoodie and dark pants.
If you have any information about the person of interest and/or the suspect's identity or location please call Crime Stoppers at 713-222-TIPS (8477). null