TIMES SQUARE, Manhattan -- A heartbroken father is leaving his thanks to the city of New York and its people, in the aftermath of last week's devastating crash in Times Square.
Thomas Elsman's 18-year-old daughter
Alyssa was killed Thursday
when a speeding car plowed into crowds of people.
Alyssa's 13-year-old sister, also injured in the crash, suffered broken teeth, a broken pelvis and a collapsed lung. She remains hospitalized.
In the letter, Thomas Elsman talked about unity, and never forgetting that his daughter was full of life. The letter, left in the midst of flowers and candles, was signed, 'Dad.'
It was placed as part of the growing memorial near the crash scene in Times Square.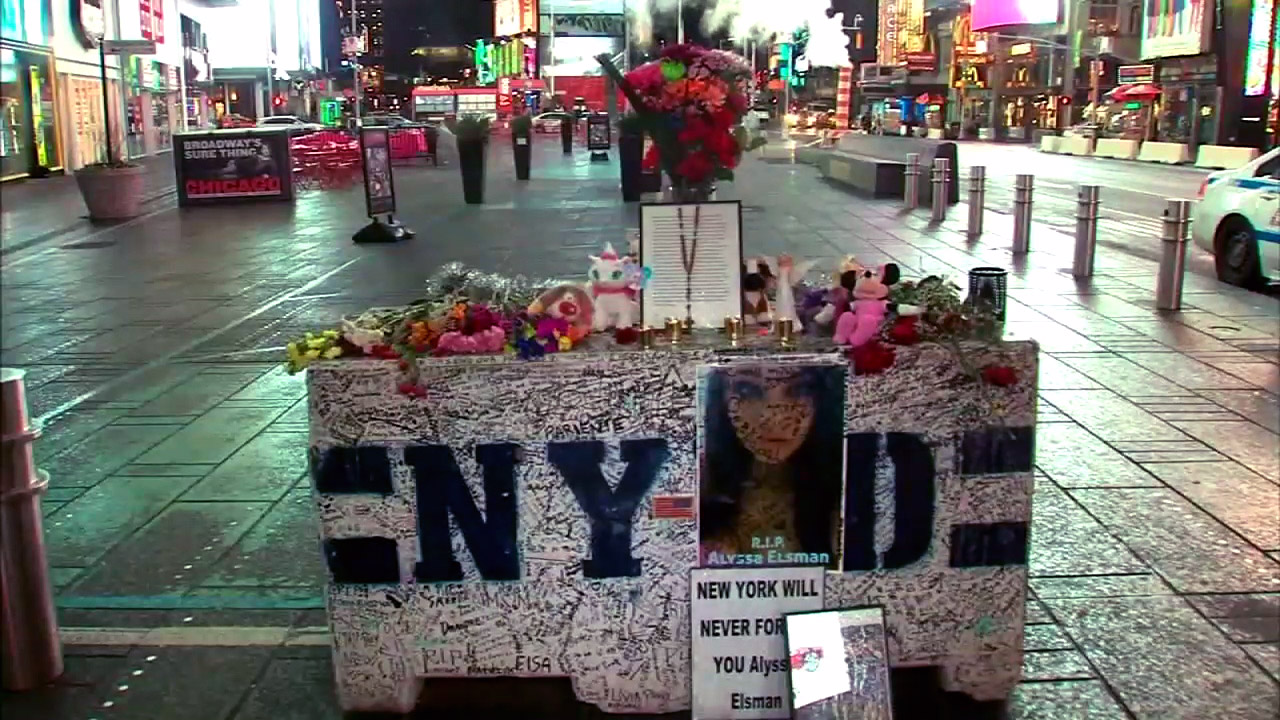 HERE IS THE FULL TEXT:
There is no words that can express our gratitude with the outpouring of love and support this city has shown us. Our medical staff, The NYPD and most of all YOU. This impromptu memorial dedicated to our daughter and seeing and talking to many of you has helped me cope with our loss. I have met so many people from different countries, religions, creeds.etc..... it doesn't matter.. you have shown us that when you remove bias.. racism.. and ignorance.. WE ARE ALL ONE... Your condolences have been sincere and taken to heart. Please also remember there are 20 other families affected by this and please keep them in your thoughts too. Alyssa loved this city... she loved Times Square. She would appreciate all your kind words but she would also tell us all to get back up and continue. That's how full of life my daughter was This city and our hearts are scarred, cut to the core, but in true New York City fashion.. We will heal.. We will prevail.. and we will never forget. Alyssa Lynn Elsman.. my beautiful 18 year old girl. I look at myself and will never understand how I could have made such an angel.. Im glad you got your mothers looks :)... .I don't know anything currently.. I always have the answers.. but I am blank... I have a hole in my heart that can never be filled. My world changed when you came into it and it is unexplainable with you leaving it. I love you kid. Just no words <3 Love you love you love you...

Dad
-------------------
Hundreds of people have signed the concrete memorial at the crash site. Here are some images:
Richard Rojas, the 26-year-old from the Bronx accused of unleashing the nightmare, said he doesn't remember the accident.
He said he had not had any visits from family members when Eyewitness News met with him Sunday at Rikers Island. He said his attorney asked him not to talk about the case.
Police say the Naval vet was high on marijuana laced with PCP when he drove his Honda up a crowded sidewalk along 7th Avenue, mowing down pedestrians.
He is expected to face a judge on Wednesday.
In an exclusive
jailhouse interview with the New York Post
, Rojas is quoted as saying, "I just want to apologize to my Mom."
In that interview with the Post, Rojas seemingly offers insight into his state of mind in the days leading up to the rampage.
"I was trying to get help. I wanted to fix my life. I wanted to get a job, get a girlfriend," he said.
Rojas faces a second-degree murder charge, and 20 counts of attempted second-degree murder.
Meanwhile, fundraising efforts are underway to help two high school students from New Jersey who were severely injured in the crash.
Jessica Williams, 19, is in critical condition. Her friend and classmate Destiny Lightfoot suffered a broken tibia and muscle fracture.
Both teens are set to graduate from Dunellen High School next month.
Report a typo to the ABC13 staff