OLD TOWN SPRING, TX (KTRK) -- It's not an art gallery heist, but to a shop in Old Town Spring, it's close enough.
Last month, a man and woman, both in their 20's were browsing in Spirit Quest Center. The business sells rocks, minerals, geodes and sculptures.
The owner was out of town. A friend was minding the store on a busy pre-Christmas Saturday.
When Chris Pennell returned, he noticed an empty spot on a shelf where a sculpture priced for sale at about $500. "I said, where's my bird?"
The bird sculpture was 10 inches tall, made of an iridescent stone found in Greenland, and hand-carved from a single block of the stone into a parrot. It was made by an artisan in Peru.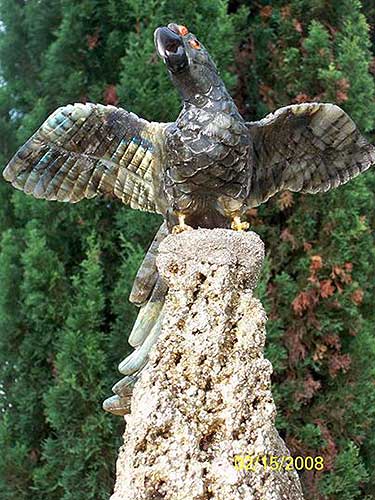 Pennell quickly turned detective and went through security video. That's when he saw the couple. In the video, the man looks around while the woman goes to the shelf, takes the statue, holds it, and whispers to her companion. Moments later, video shows her putting it into a large pink shoulder bag.
What galls Pennell is the pair casually walked out, saying "thank you" to the clerk behind the cash register in another room.
Pennell reported the theft and turned the video over to the Harris County Sheriff's Office.
For the shop, the loss is entirely theirs. It doesn't meet an insurance deductible, and it was already paid for.
Pennell says "I would ask her, what makes you think you deserve this? You didn't pay for it, you didn't invest any more in it than the four minutes you spent lifting it."
He's equally upset about the "thank you" the woman gave to the clerk.
That clerk, along with the owner, called on the couple, and especially the woman to do the right thing and return it. If not, says the clerk, "God will get you, or karma, and it sucks when you're caught."
Anyone with information is asked to call the sheriff's office or call Spirit Quest Center. Chris Pennell is waiting for a breakthrough in the case... and for his missing 'bird.'