NEW BERN, North Carolina -- About 150 people are waiting to be rescued in New Bern, North Carolina, where water levels reached 10 feet overnight.
Volunteers are using private boats to pitch in and help, city spokeswoman Colleen Roberts said.
The downtown area, at the confluence of two rivers, is mostly underwater.
"You may need to move up to the second story, or to your attic, but WE ARE COMING TO GET YOU," the city said on Twitter.
Currently ~150 awaiting rescue in New Bern. We have 2 out-of-state FEMA teams here for swift water rescue. More are on the way to help us. WE ARE COMING TO GET YOU. You may need to move up to the second story, or to your attic, but WE ARE COMING TO GET YOU. #FlorenceNC

— City of New Bern (@CityofNewBern) September 14, 2018
Craven County spokeswoman Amber Parker said the situation was dire in New Bern, which is southeast of Greenville, with some residents trapped on their roofs.
"I would say certain areas of New Bern are very desperate," Parker told ABC News on Friday. "There are people that can be trapped in water, in vehicles, on roofs. That's just the situation for anyone."
WATCH LIVE Hurricane Florence: Track Category 1 storm as it nears landfall on North Carolina coast
The city already experienced heavy flooding Thursday, with waist-deep and shoulder-deep waters.
Hurricane Florence continues to pummel the North Carolina coastline, nearing landfall Friday morning with life-threatening storm surges and hurricane-force winds.
As North Carolina residents brace for the impact of the Category 1 storm, nearly 300,000 customers in the state were without power early Friday morning.
LATEST RADAR IMAGE: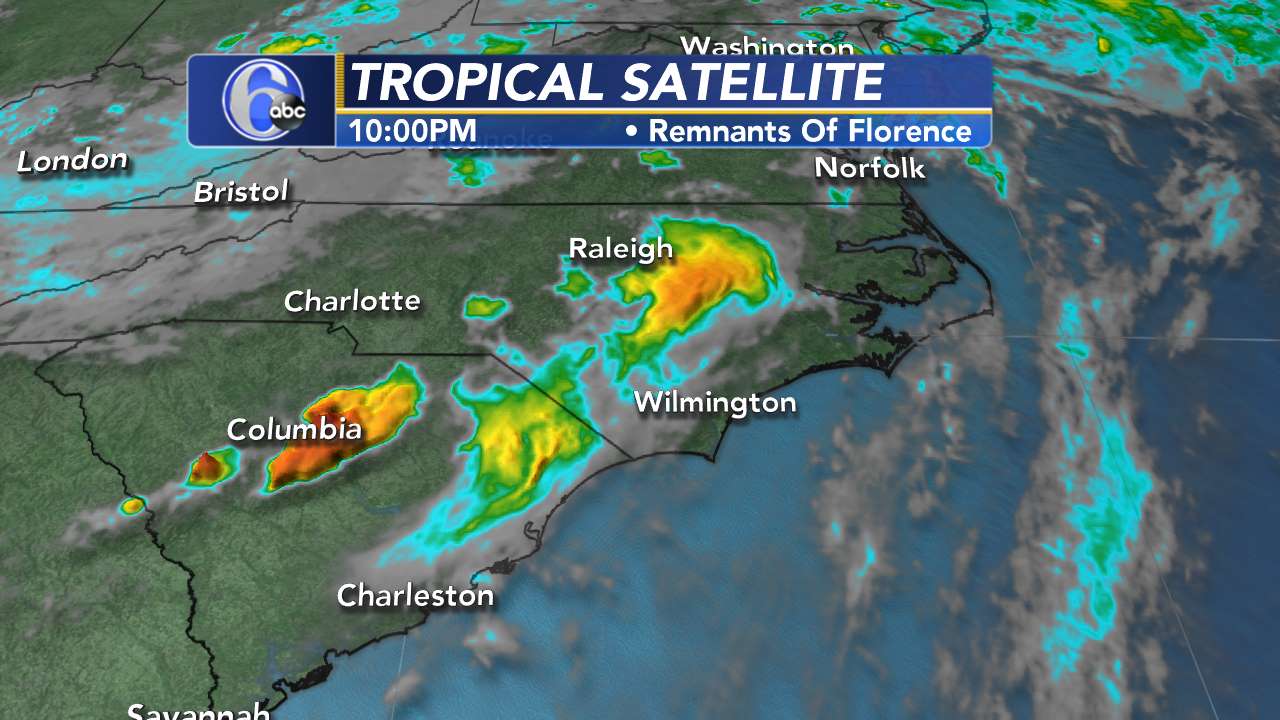 Catastrophic flooding is feared in much of the coastal Carolinas. Rainfall has already reached as much as two inches per hour in parts of eastern North Carolina.
More than a foot of rain has already drenched Atlantic Beach, North Carolina.
The rainfall is forecast to reach 20 to 40 inches over the next several days.
Storm surge could be as high as 11 feet in parts of North Carolina, prompting officials to closely watch the rise of rivers in the eastern part of the state. River flooding may be worse than Hurricane Floyd in 1999. The Cape Fear River is expected to be in major flood stage by Sunday and record flood stage by Monday.
"Surviving this storm will be a test of endurance, team work common sense and patience," North Carolina Gov. Roy Cooper said Thursday. "The heavy rains and high winds are likely to spread across North Carolina and linger for days."
"We will survive this, and we will endure," he said.
WATCH: Hurricane Florence causing rivers to rise and reach homes
ABC News' Alex Faul contributed to this report.