Watch The UTHealth Special December 14 at 10:30am!


UTHealth House Calls
In an effort to educate the city on a variety of health topics, Mercedes-Benz Dealers of Greater Houston is teaming up with UTHealth in 2019, to bring you health-related House Calls! A series of live web chats, hosted at local Mercedes Benz dealerships, will cover different health categories that concern the surrounding communities.
Topic:
Emergency Medicine
Host:
Star Motor Cars
This "House Call" touched on Emergency Medicine! Learn the proper steps to take during a medical emergency. Sometimes saving a life comes down to a few crucial moments.
To learn more about Emergency Medicine,
Click Here
MEET THE HOUSE CALL HEALTH EXPERTS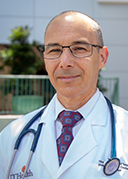 Bentley J. Bobrow, MD, FACEP, FAHA
Bentley J. Bobrow, MD, FACEP, FAHA, is internationally recognized for his contributions to the field of resuscitation science and has dedicated his career to improving emergency medical care in his community. As chair of the Department of Emergency Medicine at McGovern Medical School at UTHealth and the physician leader responsible for overseeing emergency medicine at Memorial Hermann-Texas Medical Center, he is addressing major public health challenges with innovative strategies to save lives in the most time-sensitive emergencies, including cardiac arrest, acute stroke, and traumatic brain injury. Bobrow has done National Institutes of Health-funded research in brain injury, is past chair of the American Heart Association's Basic Life Support Subcommittee, co-author of the Institute of Medicine's report on cardiac arrest, and principal investigator of the National Highway Traffic Safety Administration's CPRLifeLinks Program.
SEE PREVIOUS HOUSE CALLS HERE
SEE ARCHIVED HOUSE CALLS

Star Motor Cars
7000 Old Katy Rd. Houston, TX 77024
(713) 868-6800
Mercedes-Benz of Houston Greenway
3900 Southwest Fwy, Houston, TX 77027
(713) 489-2111
Mercedes-Benz of Houston North
17510 North Fwy, Houston, TX 77090
(281) 305-8970
Mercedes-Benz of West Houston
1025 Hwy 6, Houston, TX 77079
(281) 492-5800
Mercedes-Benz of The Woodlands
16917 Interstate 45 South, The Woodlands, TX 77385
(936) 206-7500
Mercedes-Benz of Sugar Land
15625 Southwest Freeway, Sugar Land, TX 77478
(281) 207-1500
Mercedes Benz of Clear Lake
500 Gulf Fwy S, League City, TX 77573
(855) 720-4196