April Showers call for a rainy day recipe! We've partnered with Goya Foods to bring a dish that's perfect for the season! Chaz shows us the easy steps to make this tasty Smoked Paprika Carrot Soup! Serve it with your favorite bread and brave those rainy days with this comfort food!
This Week's Recipe: Smoked Paprika Carrot Soup
Ingredients
3 Tbsp. Goya Extra Virgin Olive Oil
1 Onion, Finely Chopped
2 Tsp. Goya Minced Garlic
1 Tsp. Goya Ground Cumin
1 Tsp. Ground Coriander
1 Tsp. Smoked Paprika
Tsp. Goya Ground Cinnamon
Tsp. Goya Adobo Seasoning
Tsp. Cayenne Pepper
4 Cups Chicken Broth
1 Can Goya Coconut Milk
2 Cans Goya Sliced Carrots
2 Tsp Goya Lemon Juice
Cup Shaved Red Onion
4 Large Fresh Basil Leaves, torn
Instructions
1- Heat 2 tbsp. extra virgin olive oil in large saucepan set over medium heat; cook onion for about 5 minutes or until softened but not browned. Add garlic, cumin, coriander, paprika, cinnamon, Adobo and cayenne; cook for about 2 minutes or until fragrant.
2- Add broth, coconut milk and carrots; bring to simmer. Cook for about 15 minutes or until flavourful. Remove from heat and stir in lemon juice. Carefully transfer to blender; purée, in batches, until smooth. Ladle into bowls; drizzle with remaining extra virgin olive oil and garnish with red onion and basil.
Tried this recipe?
Mention @abc13houston or @goyafoods on Facebook or Instagram!
Join the cooking party by using the tag #GoyaCooking.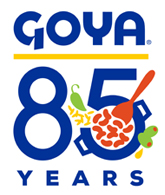 GOYA Foods turns 85 this year! The premier source for authentic Latino cuisine, Goya Foods is the largest, Hispanic-owned food company in the United States. Founded in 1936 by Don Prudencio Unanue and his wife Carolina, both from Spain, the Goya story is as much about the importance of family as it is about achieving the American dream. Learn more about GOYA Foods.