Try something new for dinner tonight! ABC13 and
Goya Foods
have teamed up to bring you a recipe thats perfect for Cinco De Mayo or a great suprise for Mom on Mother's Day! David Nuno shows us how to make these unique black bean flautas packed with GOYA adobo flavor and savory chorizo.
This Week's Recipe: Black Bean Flautas
Ingredients
1 Can
GOYA refried Black Beans
1 Cup of
GOYA Chorizo
, finely chopped
1 Tbs
GOYA Minced Garlic
1 Tbs Finely Chopped Cilantro
GOYA Adobo Seasoning
to taste
GOYA Vegetable Oil
(About cup)
Corn Tortillas
Tooth Picks
Goya Salsa (optional)
Sour Cream (optional)
Instructions
1- In a heated frying pan add chopped chorizo. Cook for a few minutes until lightly browned. Transfer chorizo to a paper towel and dab to remove excess grease.
2- In the same heated frying pan add refried black beans, garlic and Adobo seasoning. Stir thoroughly to mix ingredients together. Add chorizo into the mixture and stir to combine. Remove from heat.
3- In a separate frying pan add vegetable oil and heat until frying temperature.
4- Using tongs quickly dip and remove one corn tortilla at a time and place on a paper towel. Dab excess oil from the tortilla. (This process makes the tortilla soft and easier to roll)
5- Add a spoonful of black bean mixture to the middle of the tortilla and spread lightly. Roll the tortilla like a burrito, so that the mixture is wrapped and place a toothpick through rolled tortilla to keep a tight wrap.
6- Using tongs place your rolled tortilla into the heated oil. Fry until golden brown, turn as needed with tongs.
7- Once cooked, remove from oil and let cool for 2-3 minutes. Serve with salsa and sour cream.
Get A Printable Recipe
Tried this recipe?
Mention
@abc13houston
or
@goyafoods
on Facebook or Instagram!
Join the cooking party by using the tag #GoyaCooking.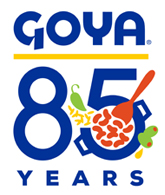 GOYA Foods turns 85 this year! The premier source for authentic Latino cuisine, Goya Foods is the largest, Hispanic-owned food company in the United States. Founded in 1936 by Don Prudencio Unanue and his wife Carolina, both from Spain, the Goya story is as much about the importance of family as it is about achieving the American dream.
Learn more about GOYA Foods.