Goodwill works to enhance the dignity and quality of life of individuals and families by strengthening communities, eliminating barriers to opportunity, and helping people in need, through learning and the power of work. Every person has the opportunity to achieve his/her fullest potential and participate in and contribute to all aspects of life. With that idea in mind Goodwill has partnered with ABC-13 to unveil a new series that highlights individuals who are striving to be the best that they can be and excelling, through the help of Goodwill's employment programs. Each month a different Goodwill employee, client, volunteer or donor will be featured and will share their story on how Goodwill changed their life. . This month, we are highlighting David. Read his profile and view his video below to learn more about how Goodwill changed his life.


LEARN MORE ABOUT GOODWILL'S
EMPLOYMENT INITIATIVE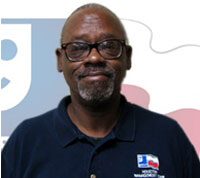 Meet Robert -- Success Story of the Month
Due to severe burns suffered in childhood, Robert was very limited in the work he could do. Hindered physically and emotionally by his disability, he began to feel hopeless. Goodwill saw the strengths in Roberts character and work ethic and gave him a job opportunity! He was able to use his determination and skills to excel! Roberts life was changed through the power of work and Goodwill's mission.
GOODWILL VIDEOSIMPROVING YOUR LIFE THROUGH GOODWILL

Thought you could only find clothes at Goodwill? Not anymore!

Be on top of all the trends with the help of your local goodwill store

Fantastic finds

What's on clearance?