HOUSTON (KTRK) -- Houston's Free Press Summer Festival kicked off today for the first time at NRG. Organizers were forced to switch venues after the floods damaged Eleanor Tinsley Park. Music fans were warned the heat could be a problem at NRG, and unfortunately that proved to be true for several people.
HFD had at least 57 emergency calls at the event dealing with heat related illnesses.
Raymond Luna comes prepared. He packed everything from a water jug to baby wipes.
"I've got this, the sunscreen the hat, umbrella and the chair," Luna said, "And those porta- cans get pretty dirty."
Festival organizers set up a free water station where fans can fill up water bottles.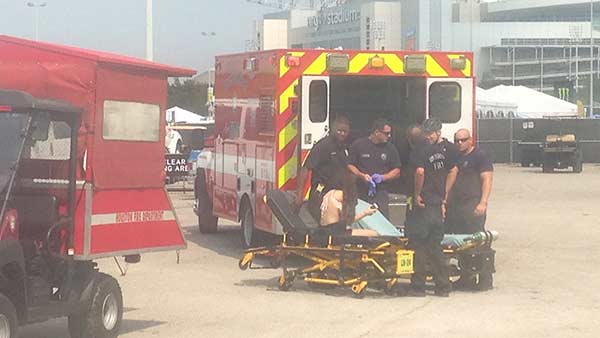 "This is my first free press and all my friends told me, like, Cam, don't pass out on me because it's gonna be hot," Cam Durley said, "They said make sure you have some water and you'll be good."
EMS teams have been busy, though, picking up fans who passed out from the heat and carrying them by golf-carts to ambulances.
Luna advises anyone coming out Sunday to take his advice and drink lots of water.
Free Press Summer Festival 2015 has a fresh music lineup isn't the only major change at the two-day event.
This year's festival relocated to Yellow Lot 1 at NRG Park
(SEE MAP)
because of flooding damage at Eleanor Tinsley Park, where the event is typically hosted.
This year's lineup include Skrillex, R. Kelly, Weezer, Steve Angello, Major Lazer, Ben Harper and the Innocent Criminals, St. Vincent, The Decemberists, Belle and Sebastian, Mastodon, Flume, Chance the Rapper, Tears for Fears, Band of Horses, Welcome to Houston, Gary Clark Jr., Charli XCX, Flogging Molly, G-Eazy, RL Grime, Brandi Carlile, Odesza, Future Islands and Tove Lo.
No pets, motorized vehicles or weapons are permitted on the grounds. Backpacks and purses will be searched.
No coolers, tents, canopies are allowed. However, towels, blankets, hats, umbrellas and empty water containers are OK to bring.
ATMs will be available on the grounds, though some vendors may also accept credit cards.
Thousands of people are expected to attend the annual event, and that means a big crowd and lots of traffic. So if you are headed to the festival, make a plan ahead of time. On-site parking is available, just have cash ready - it's $12 per car, per day.
If you don't want to drive, play it safe, and take METRORail to the festival. It costs just $1.25 to ride the rail each way, and the rail drops you right at off at NRG Park.
UBER is also an official partner of the festival. The Teal lot at NRG is the designated pick-up and drop-off spot for UBER. First time riders get $20 off with the promo code FPSF2015.
There are even bike racks, if you decide to go on two wheels.
For more details about lodging and other recommendations, visit
http://www.fpsf.com/info.html
.