My personal New Year's resolution is to make working out a regular part of my daily schedule.
Daily walks with Nanook and Baby Winnie have always been a part of our daily family fitness routine, but the adult humans need to step it up a bit.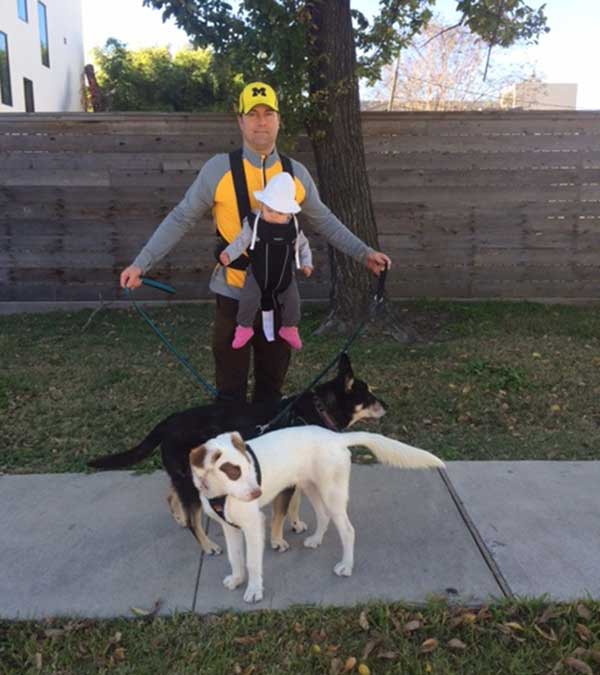 Fortunately, Nanook has always been very active. Even though she is a "senior citizen doggie" she remains in great shape. She gets at least one long walk a day, plus now she's got Baby Winnie chasing her around the house.
If you want to include your dog in your "get in shape" resolution, consider the "Walk for a Dog" app. The app by WoofTrax keeps track of the walks you take with your dog. But the best part-the makers of the app donates money for every mile you walk to a shelter or rescue of your choice! How cool is that! You and your dog can get in shape AND raise money for homeless animals. You have a whole list of southeast Texas rescues & shelters to choose from, including Red Collar Rescue, Texas Sled Dog Rescue, Citizens for Animal Protection, Corridor Rescue, Friends for Life, Houston SPCA, Lone Star Boxer Rescue, Poodle Rescue of Houston, Pup Squad, SNAP. You'll find the entire list when you register for the app. If you don't have a dog, the app even lets you create your own "virtual" dog to walk and raise money with. It's available for Apple and Android devices.
If you want to help shelter dogs even more, Citizens for Animal Protection (or CAP) has a program for you. "Tails on Trails" allows trained volunteers to take high-energy and long-term resident dogs for extended walks outside the shelter to help reduce stress through exercise and mental stimulation. For more information on this program, call CAP at 281-497-0591 and ask for the volunteer coordinator.
Another way to help homeless animals and get some extra exercise is to volunteer with your favorite rescue group. Most of them have weekend adoption events where the dogs will need several walks. This is great for the dogs because it's a lot more fun for them to walk with you than sit in a crate the entire time. Choose your favorite rescue group, give them a call and see if they can use your walking skills. Trust me, it's a workout!