HOUSTON (KTRK) -- We are learning more about a woman charged in the stabbing death of her two-month-old son in southeast Houston.
A judge read the capital murder charge against Rochelle Brown, 28, overnight. She is accused of killing her infant, Levi Thornton-Smith, early Tuesday morning at an apartment on Windmill Lakes Boulevard.
According to court documents, Brown awoke her sister when she stormed into her room, screaming erratically and holding Levi in "an improper manner."
The baby's aunt was allegedly assaulted after she told Brown to go back to sleep. Brown then allegedly returned to the bedroom with a knife as the baby cried on the bed.
The two women struggled before Brown pulled her sister from the bedroom. When the sister was able to get back inside the room, she says she found Brown stabbing the infant in the torso as he screamed.
A neighbor who heard the frantic screams of a woman ran to the apartment and says he will never be able to 'un-see' the images now burned in his memory.
"She killed the baby," he was told by Brown's sister. When he walked inside, he saw Levi lying on the floor with what appeared to be several stab wounds.
"(The mother) kept saying, 'I need Jesus' and pacing. She didn't seem to know where she was," he told abc13. He also says her hands were covered in blood.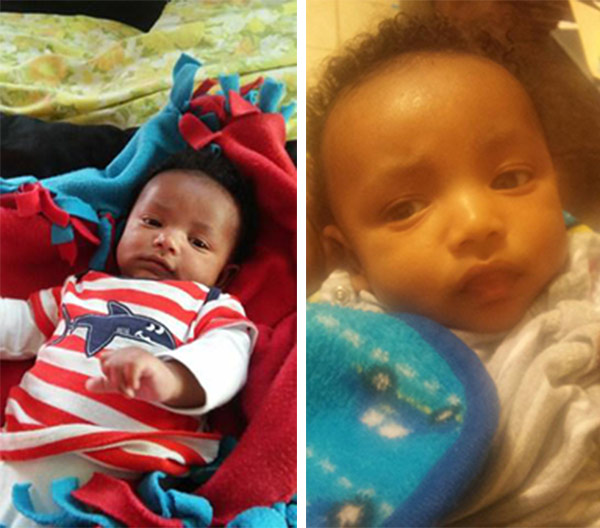 The neighbor brought Brown outside the apartment where she sat until police arrived.
Brown's two other sons were asleep in a bedroom and were unharmed.
The Brown family is believed to have moved in with her sister within the last few weeks after she was separated from her husband in Nebraska.
A homicide detective says Brown was taken to Ben Taub Hospital for observation because of her mental state before she was released to police.
Investigators say there is no known motive for the killing. Brown is charged with capital murder.
Levi's paternal grandma, Felicia Thornton, issued the following statement:
"Levi was a beautiful baby, who was loved by his father. We are disappointed he won't be able to grow. She (Rochelle) stole our memories, she hurt us. Levi was loved and is now in the arms of the Lord. It doesn't take away the pain. But in the short time he was here, he was very much love."