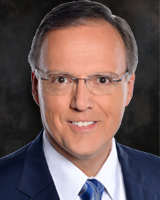 Tim Heller is the Chief Meteorologist at KTRK Channel 13, the ABC owned TV station in Houston, TX. He is a Certified Broadcast Meteorologist and member of the American Meteorological Society. His weathercasts have also earned the Seal of Approval from the National Weather Association.

His coverage of weather over the past 30 years has earned Tim Heller several awards including four Emmy Awards, one for his coverage of Hurricane Ike in 2008. Tim has also received multiple Best Weathercast awards from the Houston Press Club, the Dallas Press Club and the Texas Associated Press.

Before moving to Houston, Tim led the weather department at KDFW-TV in Dallas. He also worked at KGAN-TV in Cedar Rapids, Iowa, KRCG-TV in Jefferson City, Missouri, KDUB-TV in Dubuque, Iowa and WIFR-TV in Rockford, Illinois.

He is a graduate of the Broadcast Meteorology Program at Mississippi State University, and he has a BA in Communications from Clarke College in Dubuque, Iowa.

Tim is originally from Prairieburg, Iowa. He and his wife have three children.
---