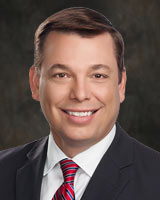 I began my reporting career in 1986 near my home town of Statenville, Georgia. I worked for ABC Affiliate WVGA in Valdosta, Georgia for three years before moving to NBC affiliate WMGT in Macon. In 1990 I got a job working for the CBS affiliate, WCTV, in Tallahassee, Florida. While there I was the Bureau Chief in Valdosta which gave me the chance to again report on news where in the place I graduated high school and college. Before leaving WCTV, I was promoted to Weekend Anchor.

In 1996 I moved to West Palm Beach, Florida, where I was a general assignment reporter. I look back on South Florida with great fondness because that is where I met my wife.

In December of 1999 she got a job in Houston so we moved to Texas. A month later, I was fortunate enough to land a position as the morning reporter at KTRK.

Since joining the ABC13 family my own family has grown. My wife and I are the proud parents of two boys who keep us very busy and occasionally bleary-eyed.


During my tenure at KTRK I have covered hurricanes, Operation Iraqi Freedom from Kuwait and Iraq and Texas troops guarding the prisoners at Guantanamo, Cuba. I look forward to many more exciting stories and happy years in Houston.

I enjoy travel and pro football (GO TEXANS). I hold a degree in Television from Valdosta State University.
---