HOUSTON (KTRK) -- Residents impacted by flood waters from Monday's storm event are on edge, as a new line of rain and storms moves into the Houston area this morning.
FLOODING AREA UPDATES:
Areas to the north and northwest sides of Harris County are the hardest hit by the storms.
Bear Creek area
Chauncy Glover was at Clay Road and Highway 6, which is blocked off all the way up to Park Row, certainly a big headache for drivers especially right in the middle of rush hour trying to maneuver around a major road. The problem in this area is at the Addicks Reservoir is taking on and enormous amount of water and that's causing major problems, not only on the roads, but also inside the neighborhood folks in the Bear Creek community are seeing water in their homes and near their homes. There's also a number of road closures in this area including Highway 6 beginning at Clay Road and officials say it's going to take at least 4 to 6 weeks before Highway 6 will reopen.
Katy:
Steve Campion reported from Katy where cleanup efforts are underway. The hardest hit area appears to be in Old Town Katy just off Avenue D near Cane Island Creek. Flood waters destroyed the Inngais family's home, their computer repair shop, and salon. They spent the day throwing out belonging, drying out floors, and trying to salvage anything. Over off Barley Lane, family helped Calvin Robinson clean out his flood damaged home. He told Campion, "We'll try to rebuild, man. Try to rebuild, man. Try to redo it. It's home. What can we do?" It is receding, but not fast enough for the residents here. Send your photos to
news@abc13.com
or upload at
iwitness.abc13.com
. You can also post to social media with #abc13eyewitness.
Westador:
In northwest Harris County, the sheriff's office continues to run its airboat into the flooded Westador subdivision. At this point, they are bringing out pets and bringing in groceries for people who decided to stay. The water from the flooded Cypress Creek remains high, with as much as 5 feet of water in homes that border the creek. It is receding, but not fast enough for the residents here. Send your photos to
news@abc13.com
or upload at
iwitness.abc13.com
. You can also post to social media with #abc13eyewitness.
Cypress Gardens
Families living in the Cypress Gardens neighborhood are keeping a close eye on the flood waters. Water from nearby Cypress Creek flooded several homes and forced some families to evacuate. Randy Burgan helped his elderly mother escape flood waters earlier this week. Most of her living room furniture is now damaged. About a foot of water entered her home. Burgan said her home hasn't flooded like this since Tropical Storm Allison hit.
Kingwood
Here at Forest Cove in Kingwood Houston firefighters have performed multiple evacuations of people who are stuck in their townhomes and apartments. As of 1 o'clock that helped at least 15 people escape the rising water of the San Jacinto River and get a higher ground in Kingwood. HFD is using multiple boats and even a city dump truck as a high water vehicle to remove those who want out. None of the evacuations are considered medical emergencies or rescues, but with the water rising some suggest it's better to get out now rather than later.
Spring Creek:
Flood waters have begun receding for Spring Creek, and the National Weather Service is forecasting that it may rise just a little again, before continuing to fall. Where the Hardy Toll Road meets I-45, water remains below the bridge. Debris is visible along the roadway along the high water mark.
VIDEO: On behalf of Houstonians, Ted Oberg says 'enough' with the rainHumble near San Jacinto River and 59
Tom Abrahams reported from Humble this morning, where water is completely covering Hamblin Road at Highway 59. Water from the San Jacinto River and Spring Creek made Hamblen impassable and flooded an nearby antique shop. More rain has been falling across the area, which could slow the water from receding.
Send your photos to
news@abc13.com
or upload at
iwitness.abc13.com
. You can also post to social media with #abc13eyewitness.
WATCH: Tom Abrahams from a flooded 59
Aldine-Westfield
Reporter Marla Carter was at an apartment complex in Spring where cars where residents were trapped. Many cars were under water, as well. One resident, whose name is Juanita, told us she stayed because she thought the water would go down.
"It flooded a few years ago like this but it went down in a day, so we though ti was going to recede, but it's just getting higher and higher," she said.
If you're in this area, send photos or videos to us at news@abc13.com or post them using #abc13eyewitness.
Marla Carter with stranded residents near Aldine-Westfield
ROADS CLOSED:Roads remain closed
due to high water around the greater Houston area, as a bayous are out of their banks. Here's the
latest list
.
DEATH TOLL:
Eight people lost their lives
in the historic flooding this week.
PHOTOS: Aerial tour of flood rescues in NW Harris County
PHOTOS: Historic level flooding slams greater Houston areaBAYOUS:As of Tuesday morning, the following watersheds in Harris County were flooding:
Addicks Reservoir (Bear Creek and South Mayde Creek)
Barker Reservoir (Buffalo Bayou)
Cypress Creek
Little Cypress Creek
Spring Creek
Willow Creek
San Jacinto River (East Fork, West Fork and San Jacinto)
All bayous within the city of Houston are back in their banks.
Check rainfall totals from the Harris County Flood Warning System
.
SHELTERS:
The American Red Cross has opened additional shelters to aid those impacted by severe rain and flooding throughout the Greater Houston area. The full list of shelters is below:
AUSTIN COUNTY:
Knights of Columbus Hall, 1390 US-90, Sealy
HARRIS COUNTY:
Chinese Community Center, 9800 Town Park Dr., Houston
Willow Meadows Baptist Church, 9800 Town Park Dr., Houston
Johnston Middle School, 10410 Manhattan Dr., Houston
Jersey Village Baptist Church, 16518 Jersey Drive, Jersey Village
MO Campbell Education Center, 1865 Aldine Bender Rd., Houston
Rosehill United Methodist Church, 21022 Rosehill Church Rd, Tomball
South County Community Center, 2235 Lake Robbins Rd., Spring
MONTGOMERY COUNTY:
East Montgomery County Senior Center, 21679 McCleskey Road, New Caney
First United Methodist Church in Conroe, 4309 West Davis, Conroe
WALLER COUNTY:
Pine Island Baptist Church, 36573 Brumlow Rd., Hempstead
Royal High School, 2550 Durkin Rd., Pattison
These shelters will be open 24 hours a day, providing a warm, dry place to stay, food and emotional support for area residents who are not able to remain at their homes due to storms and flooding.
VOLUNTEERS ARE NEEDED
! Volunteers are greatly needed to staff shelters as well as distribute food and provide other services to those in need. Training will be provided on site. Anyone interested in assisting this way is encouraged to go to redcross.org/volunteer or call 713.313.5491.
FOR HELP: Those with flood-related needs are urged to call the American Red Cross at 1-866-526-8300.
TO DONATE: Those who wish to donate to flood relief may do so at
redcross.org/donate
.
WATCHES AND WARNINGS
A Flash Flood Watch is in effect for parts of southeast Texas until 7:00pm Wednesday.
Houstonians who have experienced flooding damage to their homes should report it immediately to Houston 311. There are three ways to do that:
1. Call 311 (713.837.0311)
2. Visit houston311.org and click on "Flooding"
3. Download the Houston 311 App for Android or iOS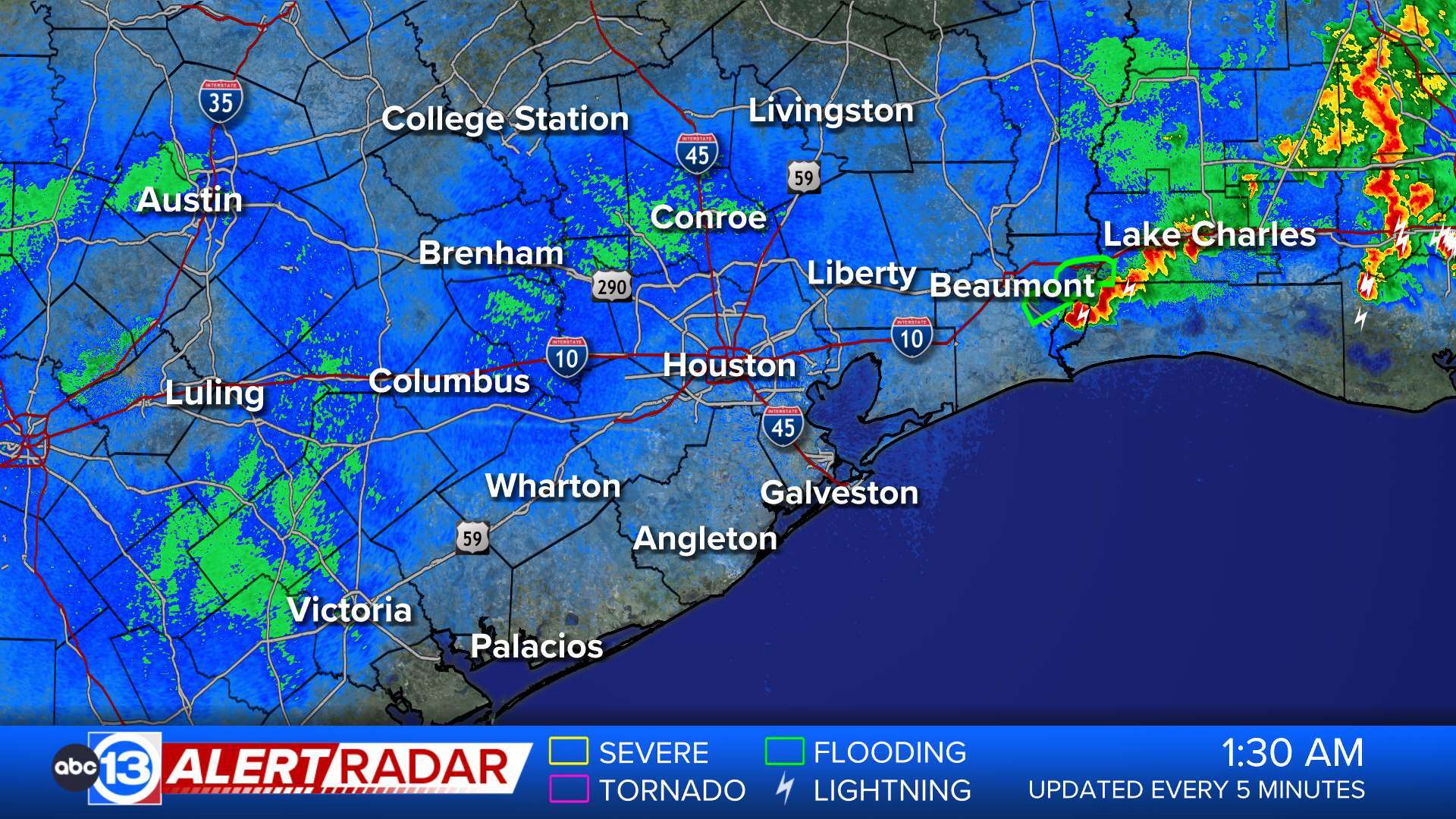 To keep track of the weather, download the free
ABC 13 Weather App
.