HOUSTON (KTRK) --
5m Thursday 8/28/14
Around 3 o'clock this afternoon the tropical low we've been tracking since Tuesday moved ashore over South Padre Island, but our chances for heavy rain are only beginning. This low kicked up a lot of storms in the western Gulf, and tomorrow this weather system will combine with another surge of moisture currently seen on satellite over the central Gulf. Some computer models are even trying to spin up another area of low pressure in this new batch of moisture. Both of these pockets of moisture will move into southeast Texas Friday night and stick around all day Saturday generating widespread heavy storms.
There's still some uncertainty to the exact path of the deepest moisture. It could shift east into Louisiana or it could blow directly over us. If we get a direct hit, Saturday would turn into a washout with up to 4" of rain in some southeast Texas neighborhoods. If the deeper moisture shifts east, peak rainfall accumulations would drop to 2". Either way, prepare for rain to kick off the holiday weekend, and stay weather aware while on the go with our
ABC13 Weather App
.
11am Thursday 8/28/14
Soaking storms swirling around low pressure in the Gulf are causing minor street flooding on Galveston Island, and this is just the first of 3 soggy days we're predicting for southeast Texas. The highest storm chances will remain along the coast, but expected scattered heavy storms to spread inland throughout the afternoon, keeping temps mainly in the 80s for the rest of the day. The low pressure remains disorganized, but it's still sitting just offshore from Brownsville, which means there's still an opportunity for it to develop into a tropical depression or storm. Right now those development odds are only at 10%.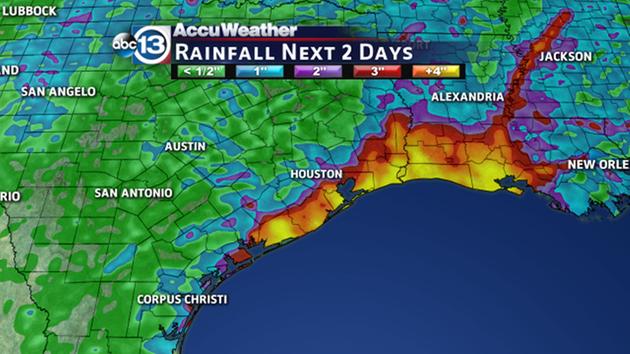 We're also tracking a second batch of deep tropical moisture in the south-central Gulf that will combine with this low late Friday. Both of these weather features will track through southeast Texas Friday night and Saturday, increasing the heavy rainfall threat area-wide. The chances of tropical development will remain low, but the odds of heavy rain will be high. As you stay weather aware the next few days, you can follow this link for
county-by-county radar images
. We'll update you again on this unfolding multi-day rain event later this afternoon.
The weak area of low pressure near the South Texas coast is still producing disorganized showers and thunderstorms. Significant development of this system is unlikely before it moves inland over
South Texas and northern Mexico today. However, areas of heavy rain are still moving north from the Gulf drenching our coastal counties.
10pm Wednesday 8/27/14
Low pressure continues to slowly swirl toward the Texas coastline, and even though the low will move into south Texas on Thursday, it will send heavy storms into southeast Texas. A surge of deep moisture will push ashore during the pre-dawn hours, which should get the rain going by sunrise along the coast. Our PinPoint FutureTrack shows pockets of heavy rain over our coastal counties by 7AM, which means it could be a wet go for commuters coming into Houston from the Gulf Freeway and from HWY 288.
Tonight we'll be carefully watching how many storms form near the low pressure center to determine whether or not it can spin up into a tropical depression or storm before moving into south Texas. Developing tropical systems usually flare up overnight and then wane during the afternoon. For example, at 10PM Tuesday there were hardly even any storms around the low, but by 3AM Wednesday a large area of storms erupted north of the low, prompting the National Hurricane Center to send out the Hurricane Hunters to investigate.
Regardless of whether or not this becomes a tropical depression or storm, the end result still looks the same for us: Rain, especially Friday night into Saturday.
We'll keep you posted if anything changes.
3:20pm Wednesday 8/27/14
A swirl of low pressure sitting about 200 miles south of Galveston is producing disorganized showers and thunderstorms over the warm Gulf waters and parts of southeast Texas. Hurricane Hunters investigated the low this afternoon and determined it remains poorly organized. Right now the National Hurricane Center only gives it a 20 percent of becoming a tropical depression or Tropical Storm Dolly before it moves inland over south Texas on Thursday.
Whether or not it develops, the end result should be the same for us: Rain -- and possibly a lot of it -- comes Friday and Saturday. Dry air is currently swirling around the low's south and east side, but a surge of deep tropical moisture should arrive on Friday, greatly increasing the odds of scattered heavy storms for us through Saturday. Where the heavy storms train one after another, more than three inches of rain could fall. This is most likely to occur in our coastal counties, with lower accumulations the farther north you go.
Uncertainty is always high with any developing tropical system, and since it's in our backyard, we'll continue to keep a close eye on it. Stay weather aware and keep checking back here at this blog post. Our weather team will update as needed around the clock when we're not on live TV.
11:50am Wednesday 8/27/14
We're monitoring an area of low pressure in the northwestern Gulf of Mexico.
Rain and thunderstorm development has increased today with this low. An Air Force Reserve Hurricane Hunter aircraft is investigating this system today.
The National Hurricane Center currently lists the probability of development at 20 percent. There are several things working against development: strong wind shear and a short amount of time before this low reaches land. However, water temperatures are very warm in the Gulf (upper 80s).
Right now, computer models take this system into far south Texas later this week.
Regardless of development, we are expecting to see periods of rain across parts of southeast Texas. The best chances for rain will be along the coast the next couple of days. Periods of heavy rain will be likely for some locations.