HOUSTON (KTRK) --
In a lawsuit filed late Thursday, former jail consultant Carl Griffith claims Harris County Sheriff Ron Hickman has not paid Griffith's final two bills. Griffith wants the $68,000 and intends to prove his advice was worth every penny.
Griffith's Beaumont-based firm was hired in 2011 by then Harris County Sheriff Adrian Garcia. Garcia wanted help getting jail issues under control and claimed at one point that Griffith's work had saved Harris County taxpayers more than $100 million. Griffith's firm was paid nearly $1.7 million over the 4 years he was on the job.
An abc13 investigation in April 2015 questioned the savings calculations, but Garcia stuck by the numbers.
SEE MORE: Thousand-dollar-a-day consultant, fuzzy variations on taxpayer savings
Griffith charged the county $34,000 every month until shortly after Adrian Garcia resigned to run for Houston Mayor in May 2015. When Garcia's successor, Ron Hickman, was appointed, Hickman terminated Griffith's contract.
The allegedly unpaid invoices are for April and May 2015, the last months of Garcia's tenure.
In an interview today, Hickman questioned if the contract and necessary purchase orders were in place entitling Griffith to the money. The County Attorney's office told abc13 it is looking into that very issue. It is apparently not the only legal issue concerning Griffith.
Hickman also told us he had conversation with the County Attorney about pursuing a claim against Griffith over the possibility Griffith's work was not "properly provided under contract."
Griffith's attorney, Chad Dunn dismissed the paperwork issues, telling abc13, "I just come from a different place in Texas. If you ask a man to work and he does the work, you pay him for it."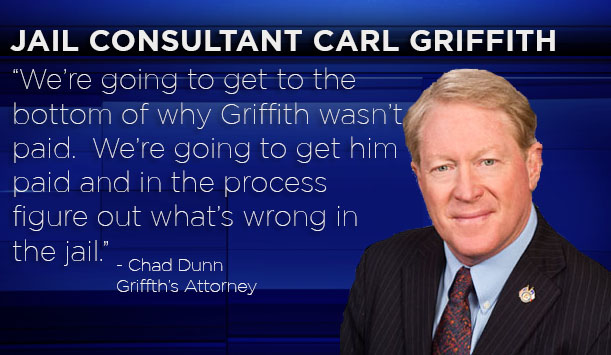 More than the legal issues, Griffith's lawsuit seems aimed at proving his advice successfully dealt with issues at the jail. To that end, Dunn told us, "We're going to get to the bottom of why Griffith wasn't paid. We're going to get him paid and in the process we will figure out what's wrong in the jail."
In the lawsuit, Griffith claims his recommendations were the driving force to reduce jail overtime and overcrowding. According to the lawsuit, "Within 9 months of commencing work, primarily through implementing [Griffith's] recommendations to expand the use of inmate work programs and good time, a reduction in the jail population had completely eliminated the need to outsource inmates. This represented a savings of more than $12 million on an annualized basis."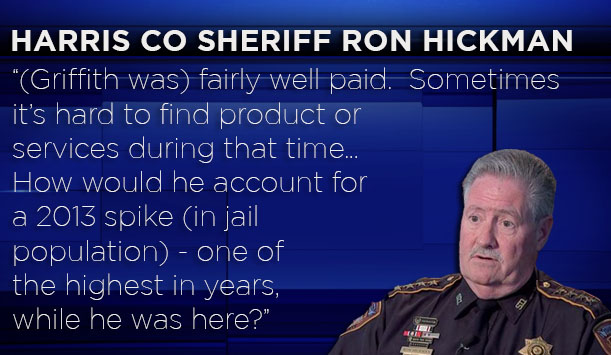 Speaking to abc13, Sheriff Hickman called the fall and rise of inmate populations "cyclical." Pointing to an internal chart of the jail population showing a large rise in population years after Griffith was hired, Hickman asked, "How would [Griffith] account for a 2013 spike? [It was] one of the highest in years, while he was here?"
Hickman questioned if the motive was possibly political for the suit. Griffith's attorneys denied any political motive.
No court date has been set.