BRONX, NY --
Relatives say Juana Alvarez died at the hands of the man she loved and trusted. Officials are describing this as a gruesome and puzzling crime.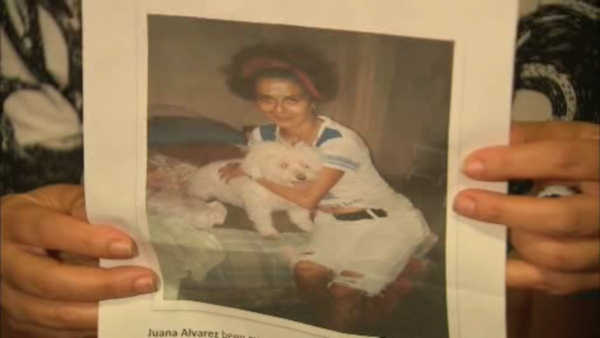 Prosecutors say 44-year-old Miguel Bonilla woke up the morning of July 27th, and decided he was no longer in love with his long-time girlfriend. He allegedly stabbed her repeatedly, took a break to listen to music, then stabbed her some more.
SEE ALSO: Girlfriend runs over, kills boyfriend in SE Houston
After the brutal attack, Bonilla allegedly put Alvarez's body in the closet. Days later, after growing tired of the stench, he allegedly used a towel to hide her body, and a shopping cart to wheel her down the street to dispose of her body in a dumpster.
Neighbor Sandra Ciprian told Eyewitness News in Spanish that she never thought Bonilla was responsible when family members put up fliers in early August saying Alvarez was missing.
Neighbors say the 52-year-old was a recovering drug addict who was trying to walk the straight and narrow.
SEE ALSO: Man accused of torturing, draining blood from girlfriend's body
Investigators have not found Alvarez's body, but police say Bonilla confessed to the crime in a videotaped interview.
"He was always yelling at her through the window - was always fighting with her. That's who I suspected when I heard she was missing," said neighbor Jassiel Herrera.
Police are looking at surveillance video from the building where the victim was last seen. They say video allegedly shows the suspect wheeling the body out of the building.
The suspect was caught jumping a turnstile - right now he is charged with murder, manslaughter and criminal possession of a weapon.
SEE ALSO: Deputy accused of setting ex-girlfriend's hair on fire