A lot of us are soaking up the sun this summer and maybe even getting too much exposure. We often turn to aloe vera to help ease the pain of a sun burn, but this powerful plant aids in much more than that. It can help improve our skin issues and hair woes.
"It's anti-inflammatory, anti-bacterial, full of vitamins and minerals, and is also very soothing and cooling," explains
The Upper Hand Salon
Owner Rachel Gower.
"Because aloe vera is so anti-inflammatory, it's great to use on acne. Just take a little bit and dab it straight on a blemish. Over time, it will decrease in size," adds Gower.
Another great way to use aloe vera gel is to remove eye makeup.
"Just squirt a little on a cotton pad and very gently rub that over your lashes until all your mascara comes off," says Gower.
Aloe vera gel can also tame frizz. Squeeze a tad of product into your hands and then smooth over the hair.
Gower adds, "Not only will it tame frizz on your hair, but you can also put a little on a mascara wand and use it as a brow gel. This will keep your brows in place without getting sticky."
There is also aloe vera juice on the market. You can find it on the health food section of the grocery store.
One really cool way to use aloe vera juice is to pour it in an ice cube tray and freeze it.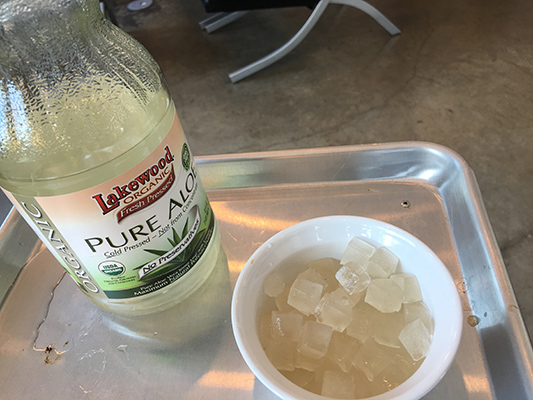 "These ice cubes will be great for any kind of sunburn, insect bites, a cut, and even under your eyes to get rid of puffiness," explains Gower.
You can also drink aloe vera juice to help with digestion.