BRAZORIA, TX (KTRK) --
Most of the area between Angleton and West Colombia is underwater or nearly there.
Homes are flooded, streets are closed and 800 head of cattle are on the move as well.
The flooding Brazos River is swallowing up so much land about 800 head of cattle had no place left to go.
The herd is being rounded up, moved down Highway 521 and onto higher ground. Only a small patch of dry land was left for them to graze on. The farm owner decided to move the cows to a dry field about three miles away. Several volunteers on horseback are helping.
The cattle are the latest to get out because of historic flooding in Brazoria County.
Hundreds of homes are underwater or on the verge of going under.
Janice Smithhart's home in Oak Creek Estates is inaccessible. She said, "I started preparing last Sunday, sandbagging the house, plugging up the weep holes, everything, evacuated the animals."
Smithhart lives just east of Bailey's Prairie. She left when the evacuation order was announced, but says some of her neighbors stayed behind.
She said, "Several people I know have three or four feet of water in their homes, and other places, Bar X, it's a lot worse."
Deputies who have been guarding the road blocks say it appears to them the water has stopped rising, but it's still too dangerous to let people drive over most roads west of Highway 288, and it will be days before the water level finally starts to go down.
Long Horn Estates, Holiday Lakes, Bailey's Prairie and the Bar X Ranch area are all under mandatory evacuation orders.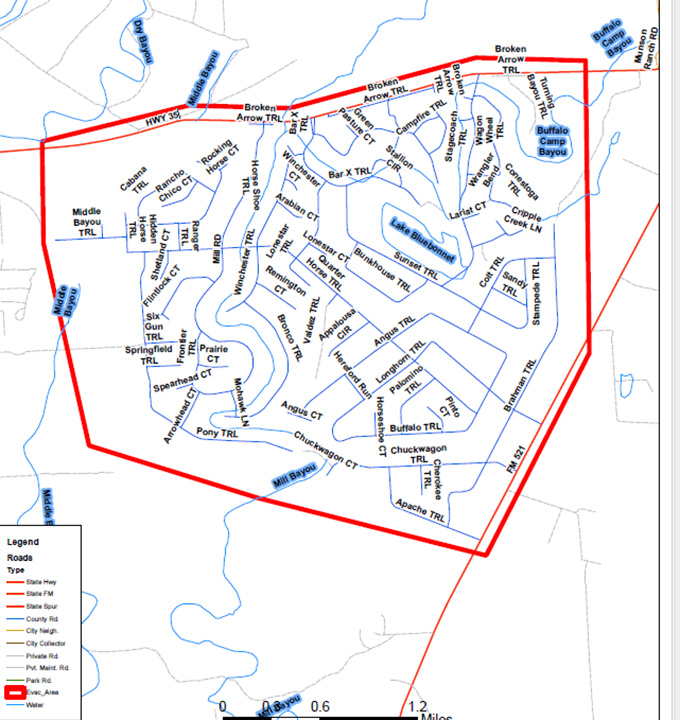 County Road 26 South of 288 is closed.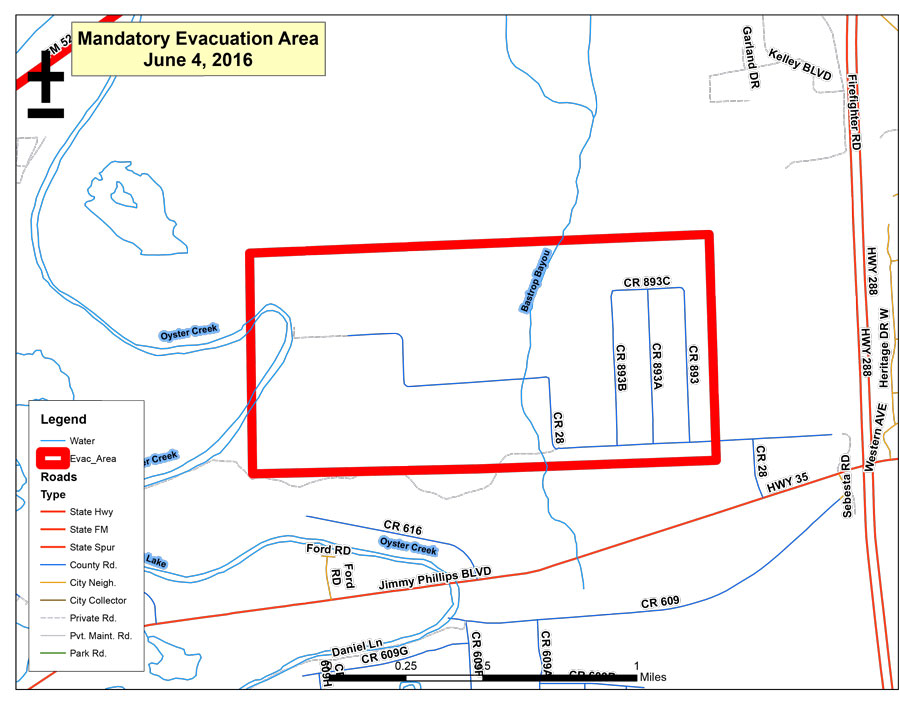 FM 521 from Highway 288B to the Brazos River is also closed.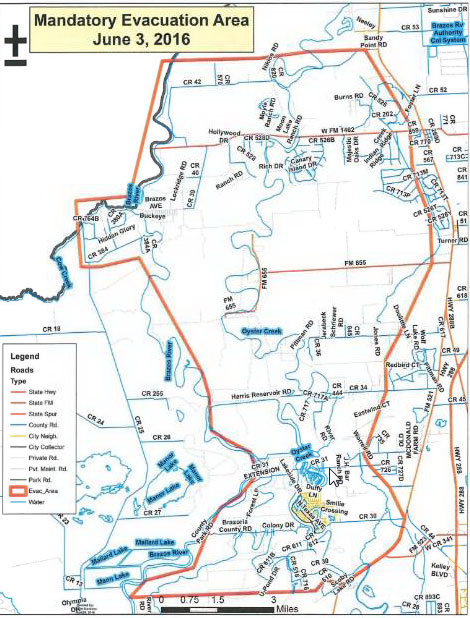 There is a mandatory curfew in place as well.
People have been told to get to higher ground because they can be cut off from ways to get out and unable to leave because roads are covered in high water.
There are two shelters in place in Brazoria County. One in Angleton is at capacity, the other one in Rosharon still has some room.
The Brazoria County Office of Emergency Management says it plans to open a third shelter. It has not said where that will be yet.
MANDATORY CURFEW:
Effective immediately, officials have issued a mandatory dusk-dawn curfew for areas of Brazoria County under an evacuation order.
During the curfew, citizens are forbidden from remaining on or traveling upon property -- public or private -- within the evacuation area unless the person owns or has been invited to the property.
To get alerts for breaking news, download the abc13 news app for iPhone or Android. You can also get breaking news alerts sent to you by email.