An outspoken businesswoman who stars on ABC's "Shark Tank" is now making headlines for a controversial tweet some call overtly sexual and simply bad advice.
On Thursday morning, Barbara Corcoran is standing by it.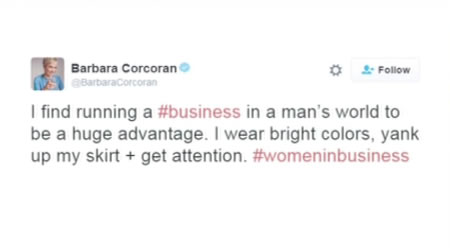 Corcoran made her own wealth by starting a realty office with a $1,000 loan and later selling New York City's largest real estate company for $66 million.
The woman known for making bold statements posted this message on Twitter: "I find running a business in a man's world to be a huge advantage. I wear bright colors, yank up my skirt (and) get attention."
She later took the tweet down, but on Thursday morning on "Good Morning America," she made no apology for what she wrote.
"If you can grab attention and be different from the pack, and it doesn't have to be in any sexual way. I mean, men will go out and buy a $5,000 Tom Ford suit to impress their friends. They know they're looking good, they know they're strutting their stuff. And I think it's the wrong message to tell young women they should look like the guys," Corcoran said.
Other businesswomen disagree. They say the tweet sends the wrong message.
"As a millennial, we expect feminism at work, we expect equality. We expect to be judged by our intelligence, by our hustle, by our creativity, by our ability to collaborate, not by what we are wearing," Glassbreakers co-founder Eileen Carey said.
But Corcoran says men and women need to use their best assets to get ahead.
"You will never succeed being exactly like the next guy or gal," she said.
With that, Corcoran says she was surprised her tweet even got this much attention.
She says she will continue to hike up her skirt because her best asset is her legs.