HOUSTON (KTRK) --
About 100 gallons of fuel has spilled onto the Southwest Freeway after an accident involving a heavy truck.
After hours of all lanes being blocked, the lanes finally opened around 2pm after traffic was being detoured southbound.
The accident happened before 11am in the northbound lanes of the Southwest Freeway near Bellaire.
Danny Perez with TxDOT tells Eyewitness News the fuel ignited at one point, causing a fire. Emergency workers were able to put out the fire and immediately began working to clear the scene.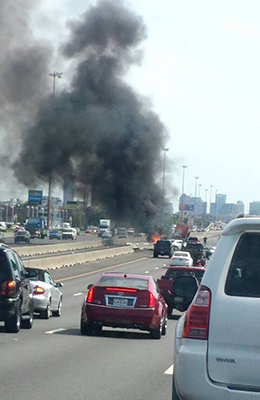 One other vehicle was involved in the accident, according to officials. Unfortunately, we have no word on the condition of either driver.
The heavy truck can be seen resting on top of the concrete barrier. The barriers immediately behind the truck have some pretty major damage.
Traffic is now jammed behind this accident as emergency crews work to clean up this big mess.
A witness tells abc13 another accident happened behind this accident near Hillcroft as traffic began to pile up. Three vehicles are reportedly involved in that accident.
Overall, a huge mess on the Southwest Freeway as drivers are forced to just sit and wait for things to open up again.
We're following this story on Eyewitness News. Watch for updates on air, online and on our mobile news app.
Keep checking back on this page to get real-time updates as this story unfolds. To get alerts for breaking news, download the abc13 news app for iPhone or Android. You can also get breaking news alerts sent to you by email.