HOUSTON, TX (KTRK) --
A 3-year-old boy was struck by a car speeding down a north Houston street late Saturday morning. His small body was dragged 162 feet by the car before it rolled out from beneath it.
The driver kept on going.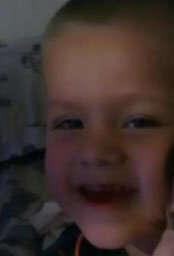 The victim was taken to the hospital. We do not yet know the boy's condition
Leonardo is one of Orlando Alba's five children, the youngest of his sons. The boy was in the front yard as Alba was washing his truck. At some point, the boy moved close enough to the street to be struck.
"I heard a thud," his father said. "I went to see and that's when I saw my son coming out from under the vehicle."
Leonardo was taken by ambulance to Texas Children's Hospital. His family was told he has a broken pelvis, leg and arm, and a head injury. He was conscious at the scene, as his father held him in his arms.
"I told him 'Dad's here,'" he said.
The car was recorded on security video at a home down the block. It's a late model red sedan, without black trim on the side. Houston police are actively looked in the area near Charnwood St and the Hardy Toll Road feeder.
"People speed down the street to get to the toll road," said one neighbor. "I always knew something like this would happen.
Neighbors said they had requested speed bumps in recent years. They told us their request was put on a waiting list that could take up to five years.